Who and What
is the ECCL?
Who Are We?
The Estero Council of Community Leaders (ECCL) is a volunteer, non-partisan, non-political, IRS-designated 501c3 nonprofit organization.
What is Our Purpose?
Driven by resident input and facts, our purpose is to serve as the voice of the residents of greater Estero. Fighting for what's right and striving to right what's wrong, we seek opportunities, challenge threats, offer solutions, monitor Local, County, and State government performance, and encourage community engagement by communicating reliable, accurate information supporting informed decision-making.
Enjoying our clean, attractive environment, feeling safe, having access to good healthcare, developing excellent educational facilities, good road networks, encouraging a greater focus on culture/the arts and sports facilities, enjoying various shops and restaurants, and minimizing overpopulation, are all vital to our well-being and quality of life. Our efforts have helped to increase our property values and have had a significant effect on enhancing the attractiveness of this part of South West Florida to visitors.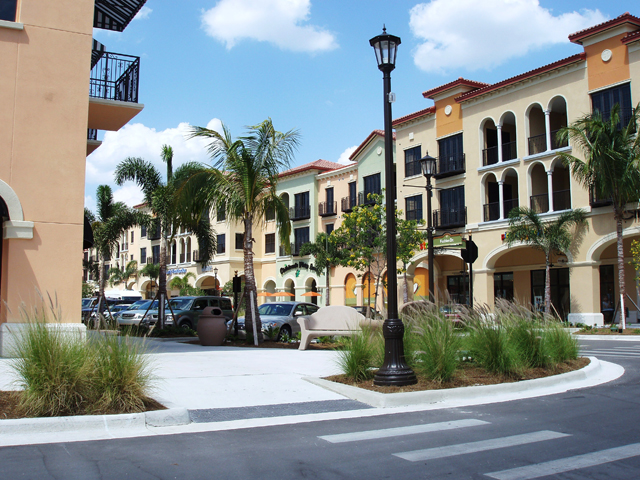 The ECCL focuses on six key areas or "pillars" considered critical to the greater Estero area:
How does the ECCL interact with other organizations and elected officials?
When an issue arises that could adversely impact our lives here in South West Florida; the ECCL will firstly let residents know about the problem. We might seek your help in communicating your concerns to those responsible for deciding on how they should address the problem. This collective action is critical in effecting change and ensuring consideration of our position or opinions.
The ECCL also liaises with various organizations such as the "Village" Council, South West Florida Conservancy, the Estero Chamber of Commerce, and many others. Our connections help keep us, and you, up to date on any emerging developments that could affect our community either positively or negatively. You are significant to all we do. From time to time, we conduct surveys to seek your opinion on various issues, which help guide our actions.
The illustration below shows ECCL's interaction with residents and the various organizations and officials with whom we communicate.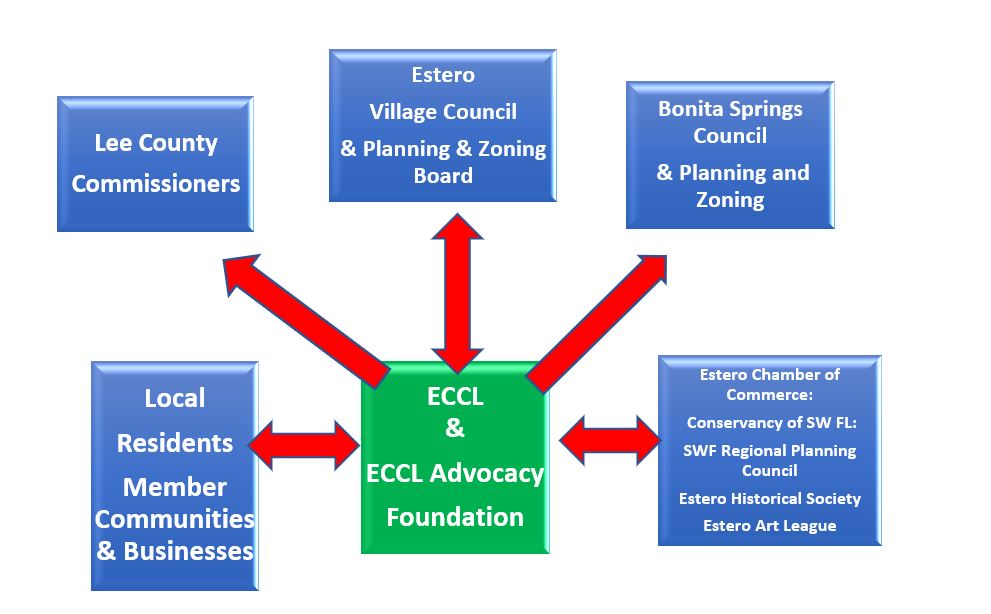 What has the ECCL done to help residents?
The answer is a "great deal!" This short series of slides on the website summarizes the many essential benefits that have resulted from the organization's advocacy efforts and our residents' support. Click to see a summary of the ECCL's impressive achievements.
Just some of the achievements are also summarized below: –
We coordinated all efforts resulting in the successful vote for the establishment of the Village of Estero
We keep residents appraised of projects impacting our water quality and quantity, as well as area wildlife
Successes in preventing the expansion of mining along Eastern Corkscrew Road
We set strict design/architectural standards, including landscaping designs, in the original Estero Community Plan
The removal of CR 951 and Coconut Road interchange from the 2035 Transportation Plan
We collaborated with the Grandezza Community and Lee County to minimize adverse noise and visual impacts of university community development
Extended hours at Bonita Community Health Center to better serve residents.
We supported the development of Lee Health Coconut Point
We supported the development of Lee Health Coconut Point
Helped Lee County Schools to secure volunteers, implemented Junior Achievement programs in five Estero area schools
At the Village's request, we help inform residents about storm preparedness and emergency contact information in the event of a hurricane
Why should I pay attention to the ECCL?
There is still a considerable amount of work ahead for the ECCL. We need to keep a check of new developments and ensure that the greater Estero area is not going to be subject to over-development, putting a strain on our resources such as roads, water supply, safety resulting from over-population. We also need to be mindful of any threats to our water supply and quality and additional mining activity and its likely impact.
As we advance, we will continue to monitor the areas of concern you shared with us in our 2019 survey.
In particular, you want the ECCL to focus on:
The Environment
Community Development
Health and Healthcare
But there was also high Interest on the following issues on which the ECCL has been very focused.
A Performing Arts Center
Funding for expanding the arts, recreation, and entertainment
Open-air venues for music, and open-air plays
Use of government funds for enhancing roadway and landscaping,
Connecting biking and hiking trails
Improving access to the Estero River
Ensuring boat access to the Estero Bay
Also, the ECCL is committed to
Challenging infringements (development) in the Density Reduction/Groundwater Resource (DR/GR) area
Challenging unnecessary mines
Challenging the need for the NCH Emergency Department across from Coconut Point Mall
Challenging sewage treatment plant/waste transfer station at the bend in Alico Road
Advocating for additional Lee District schools (Elementary, Middle) in Estero
Advocating for support of Estero area schools, teachers, and administrators
Advocating for a traffic light at Bella Terra Blvd and Corkscrew Rd
Advocating for Extension of Alico Rd to Ste Rt 82 to reduce the number of trucks on Corkscrew Road
Make a Difference
If you agree with the value of the initiatives and achievements of the ECCL, please:
We Need Your Support
Finally, our advocacy efforts can be costly. For us to continue to be successful, we need a partnership with you.
The ECCL is a non-profit organization and does require financial support for many of the initiatives that we undertake. We continually need funds and other resources for communications, promotions, legal services, expert consultants and engineers, educational scholarships, etc.