Hosted by the Estero Council of Community Leaders (ECCL) 7th annual
"Breaking Par at Grandezza" Gala & Golf Tournament
Since 2013 this Event raised more than $382,000 in Net Proceeds for Junior Achievement of Southwest Florida (JASWFL)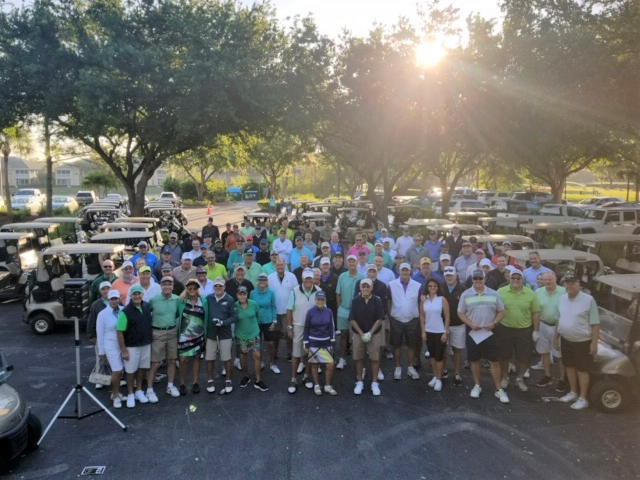 ESTERO. FLORIDA (April 9, 2019) –  The seventh annual "Breaking Par at Grandezza" ECCL hosted 232 guests at the gala dinner and auction on March 21st where Lee Health former CEO/President Jim Nathan was the Guest of Honor.  Net proceeds this year were 35% greater than previous-year event thanks to twenty-nine sponsors, forty-nine individual donors, and a work-together partnership between ECCL, Junior Achievement of SWFL, The Club at Grandezza, and Grandezza Volunteers.
Friday's Shotgun Scramble Golf Tournament had a full field-of-play. The tournament was followed by an awards ceremony and an absolutely-scrumptious luncheon prepared by Grandezza's Chef and culinary staff.  As a special feature, four members of the Professional Golf Management Program  (FGCU) participated in player team competition. Event major sponsors included  BMO Harris Bank, LEE HEALTH, Bay Water Boat Club, JAGUAR of Fort Myers, IBERIABANK, Tijuana Flats, Lee County Reprographics,Inc., MOMENTUM, and Entech.  FGCU and Estero High School students served as principle volunteers for the two-day charity event.  Event Master of Ceremonies were NBC-2 Anchors Rachel Pierce and Clay Miller.
Jim Shields (event founder and co-chair) said, "this year's best-ever result became reality because of  leadership and staff from The Club at Grandezza, ECCL, JA's Stephanie Hoffman, and Grandezza's lead-volunteer Amy Kuchenbecker".  In behalf of event host ECCL, Jim also expressed sincere thanks to event co-chairs Michael Stevens, Kenny James and Andy Buschle as well as to Jim Gilmartin (ECCL),and nationally-acclaimed charity auctioneer, Scott Robertson.
"Breaking Par at Grandezza" is the predominant funding for Junior Achievement's CEO Academy at FGCU led by Dr. Sandra Kauanui, Director of Institute for Entrepreneurship. CEO Academy is JA's flagship Program to prepare young aspiring entrepreneurs to become the business leaders of tomorrow. These event proceeds also fund (K-12) in-class and after-school programs from Junior Achievement, an organization dedicated to inspiring and preparing young people to succeed.