2022 Estero Essay Contest
Three $1,000 Scholarships for Estero High School Seniors.

Congratulations to Estero Students
Estero Schools ended their year with a burst of activity and awards. Congratulations to the 305 students that graduated from Estero High this year. At the May 4th Senior Awards Night, Estero High students received their Senior Awards and were recognized for individual achievements by nearly 20 organizations. The Community Scholarships presented totaled $350,000.
In addition, with the Bright Futures Scholarships of $500,000 and the College Scholarships of $2 million, the combined total of awarded Scholarships amounted to almost $3 million.
The Senior Awards night opened with the National Anthem and Presentation of Colors by the Estero JROTC Color Guard. In the background are David Howdyshell, Assistant Principal of Curriculum, and Michael Amabile, Principal.
One scholarship example is the Florida Gulf Coast University Foundation Award presented to senior Julia Neis. She was awarded a $10,000 annual Scholarship to FGCU from the Mary T. & Richard G. Reichle, Jr. Scholarship Endowed Fund. Totaling $40,000 and focused on middle-income first-generation college students, the $10,000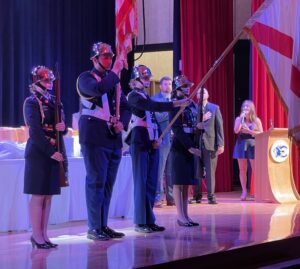 award is for up to 4 years through graduation.
Community groups making awards included: APA of Southwest Florida, Bonita Springs AM Rotary Club, Bruce L. Scheiner and Associates, Collaboratory Coalition, Continental Women's Club, Estero Encore Women's Club, Estero Rotary Club, The Foundation for Lee County Schools, Michael Mastroianni Foundation, Pelican Sound Golf and River Club, PEO Chapter IH – Bonita Springs, United State Army, United States Marine Corps, and the United States Military Academy West Point.
The Estero Historical Society, Estero Chamber of Commerce, and the ECCL each awarded $1,000 Scholarships based on student-submitted essays. J. Oelmann received a $1,000 Scholarship for his essay on Village History and a second $1,000 Scholarship based on Estero Area Business History. The $1,000 Scholarship on Governance History went to Clayton Chauncey. Terri Hensley, Estero High School Guidance Counselor, coordinated this essay contest. Fifteen judges reviewed the ten essays submitted.
A separate essay contest was held for 4th-grade students at Three Oaks Elementary School, where Jessica Thompson, a reading specialist, coordinated the program. The following awards were presented on May 20th:
First Prize ($200) to Lucas Rosabella
Second Prize ($150) to Natalie Gillern
Third Prize ($100) to Peyton Schwalbe
Estero High School also has 115 seniors involved in the Cambridge/AICE advanced study program offered in conjunction with Cambridge University. In this program, 59 students had already earned diplomas. There were 51 students earning diplomas this year. Also presented were 70 AICE scholar awards for passing three or more exams.
The ECCL congratulates all award winners and all graduating students.
Scholarship Sponsors