The content of a number of recent communications from London Bay Homes regarding the development proposals being planned for the former Weeks Fishing Camp at the western end of Coconut Road appears to be a "slap in the face" for residents of South Lee and Collier County, who wish to have access to Estero Bay to launch their boats.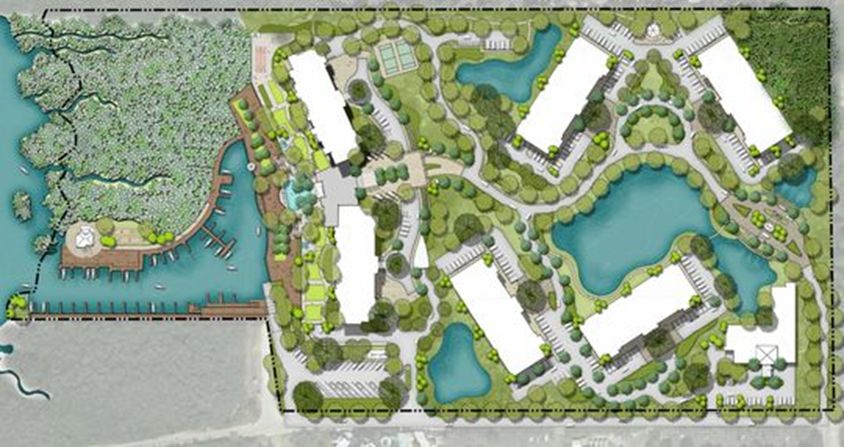 Despite numerous meetings between various members of the ECCL and the directors of London Bay Homes, they have remained intransigent on the aspect of providing suitable and convenient access to Estero Bay which was an expressed requirement by Jim Weeks the former owner of the property when it was first sold. As part of their multi-million-dollar plan for assisted living accommodation and a private marina, they are offering only one boat ramp of 18 feet to enable boaters to launch their boats which is fraught with many difficulties and dangers. Despite suggesting that this amenity would be offered in perpetuity because of its many drawbacks, use would be virtually non-existent! London Bay Homes are continuing to tout this offer as a significant benefit to residents and boaters when in truth they will be essentially removing an extremely important amenity forever from our residents and visitors.
When London Bay's development plans were first announced in early 2019, ECCL saw this proposal as both a potential positive and a negative restriction to the residents in the greater Bonita Springs/ Estero area.
To provide an objective basis for analyzing plans for and recommending amendments to the London Bay proposed development, ECCL funded and managed a comprehensive online research study of some 4000 residents, which resulted in an overwhelming response rate of 51% from 40 residential neighborhoods. In addition, two focus groups, comprised of 21 local boaters and experienced boat ramp designers, also expressed their opinions on the proposals.
The following summarizes the results of the ECCL research study:
97% considered it at least very important (79% extremely important) that the public should have access to Estero Bay
While 73% were pleased that London Bay Homes was considering allowing access to Estero Bay, the three-acre site had many issues associated with its layout
83% objected to a single boat ramp
92% found ten (10) trailer & fifteen (15) auto parking spaces unacceptable
79% cited off-site overflow parking as inadequate
A key concern expressed (without prompting) was the fact that boaters would be severely impacted by the restricted single boat ramp for Bay access.
A two-ramp provision was seen as an absolute necessity and a minimal requirement by all boaters, which would be unlikely to result in any appreciable increase in traffic to this facility due to the limited parking facilities. All other boat ramp designs in SW Florida invariable have two or more boat ramps.
Further to the issue of restricted access to Estero Bay, in an article published in the Naples Daily News (Patrick Riley, 04/28/2016), the then mayor, Ben Nelson talking about this issue stated, "I feel certain that staff, the public and council will not be interested in allowing a change in the historic use of the water front (from the open access of the former Weeks Fish Camp), it is too important to citizens from San Carlos Park, Estero and Bonita." In the same article, John Dulmer, Director of Bonita Springs Planning Office also expressed concern about the need to ensure suitable access to Estero Bay. He also expressed this same view to several ECCL representatives during a face to face meeting in February 2019 when the ECCL survey results were discussed.
Given this background, it was extremely upsetting to note a public statement made by London Bay President, Mark Wilson, (NBC-2 News 5:30 pm Feb 28, 2020) that "The development (at the West end of Coconut Road) is private property and (resident) access to Estero Bay is a privilege and not a right"
The ECCL has shared the full results of our investigations with London Bay as well as the Bonita Springs Planning & Zoning Department. During the meeting between John Dulmer, Irv Nathanson, Allan Bowditch, and the late Bob King of the ECCL, Mr. Dulmer expressed the view that appropriate access to Estero Bay was extremely important for everyone in the Bonita Springs and Estero locality. Despite some modifications to the original plans, access to Estero Bay remains a significant point of contention.
ECCL Proposed Course of Action
London Bay has expressed a clear intention (NBC2 interview) that current plans for this development will include a single boat ramp only and plans for auto parking, and the boat launch staging area will not be modified.
The result of this position will deny suitable and convenient access by residents of the greater Bonita Springs/Estero to Estero Bay, which is unacceptable.
We need the governing authorities of Estero and Bonita Springs to mandate amendments to the current London Bay development plan accordingly. The ECCL will continue to advocate strongly on behalf of the residents of Estero and surrounding communities, to ensure convenient and public access to Estero Bay.