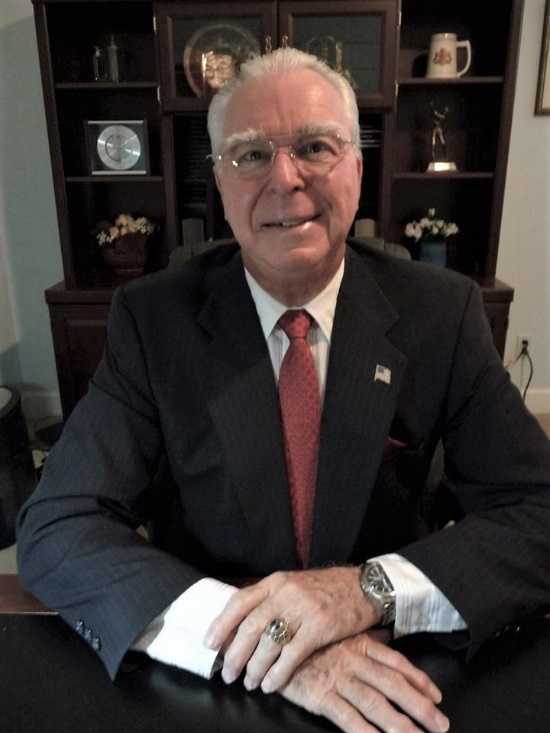 On August 14, 2019, Bob King, President of the Estero Council of Community Leaders (ECCL) peacefully passed on August 14, 2019, at the Hope Hospice, Lee Health Park. The ECCL lost one of its most important, highly respected, and significant advocates for improving the quality of life in Estero and surrounding communities. His contributions were exceptional. Whenever called for public service Bob always responded vigorously.
With the planned retirement of Chairman Don Eslick in Oct 2019, and upon consulting with his wife Janet, Bob accepted the newly created position of ECCL President in June 2019. Earlier this year, he significantly contributed to the reorganization of the ECCL. Bob saw the need for the ECCL to be inclusive of living community residents, other residents, local businesses, and other not-for-profit organizations.
Bob's wishes were to not have a funeral or service. He will be cremated, and as an avid golfer, his ashes will be spread over various golf courses. Knowing how much he loved the game; this is a perfect tribute to his life! Bob is survived by his loving wife Janet and Son Rick.
Bob and his wife Janet moved to Bella Terra and Estero in 2008. Soon after he volunteered for the Bella Terra neighborhood watch. Bob's engineering background, process orientation and attention to detail were instrumental in understanding community needs. In 2011 he investigated the HOA turnover process from the developer (Lennar) to the residents of Bella Terra. In 2012, he spearheaded the Master HOA turnover process.
In 2013, Bob was elected to the first resident-controlled Master HOA board and was elected president by his peers on the board. During his 2-term tenure, he championed community document updates, new statements of work and contracts for the management company, gate entry and control, irrigation, and landscape maintenance. Another major task was understanding and documenting Bella Terra Master HOA's real property. Placing a current value, and a replacement value was a time-consuming task. He was also very active in the ECCL as the Bella Terra Representative.
His involvement did not stop "behind the gates" of Bella Terra. Bob volunteered to be the ECCL Transportation Chairperson and significantly contributed to developing six transportation districts. He appointed a leader for each district responsible for identifying transportation issues and resolutions at monthly transportation meetings. As a committee chair, he was appointed an ECCL Board member charting the future course of the ECCL and Estero.
Bob helped push the Incorporation of the Village of Estero in 2014. He saw the need for local governance.
In 2016 he was appointed, by then Lee County Commissioner Larry Kiker, to the Metropolitan Planning Organization's Citizen Advisory Committee. He took every opportunity to voice the concerns of Bella Terra, the Village of Estero, and Southeast Lee County as it concerned roads and more.
A group of communities, within and outside the Village of Estero, came together to form the East Corkscrew Alliance. This ad hoc committee channeled transportation, development, and environmental concerns to local organizations, the Village of Estero, County, and State officials. Bob was a founding member and the Bella Terra representative.
In 2017 Bob was appointed to the Village of Estero Planning and Zoning Board. He took this responsibility to heart. He spent many hours reviewing plans submitted to the Board prior to meetings and researching applicable documents.
Bob Will Be Missed
Those of us who knew Bob well will miss him, but he will remain with us for lasting memories never fade. Those we care about can never be more than a thought apart. For as long there is a memory, Bob will live on in our hearts. Our thoughts and heartfelt prayers are with his family during this time of sorrow.
Below are selected sentiments expressed by friends and colleagues:
"Bob was a vibrant, dedicated man. It is a great loss for the residents of Bella Terra and the Village of Estero."
"He was a man of integrity and will be very much missed by all who had the privilege of interacting with him."
"His enthusiasm and energy were infectious, and he seemed to fit so much into every day even though technically he was retired!!"
"Bob King was Bella Terra. He was a leader, a mentor, a friend, a great husband, and the heart of our community."
"A great part of building in this brand-new Community of Bella Terra was that Bob King built here too. He could see the future needs of the Community and had the leadership and organizational skills to guide us to where we are today."
"Bob touched so many hearts in the community. He will be missed."
"I witnessed and understood Bob's humanity and decency and his keen discernment of all the issues plaguing Estero and Lee County that will affect its future sustainability and quality of life."
"Bob was a real gentleman of great integrity. He always sought both sides of an issue and strove for fairness and objectivity. It was an honor to be his friend and a real pleasure to have worked with Bob through the (Bella Terra) transition process and on the Master Board."
"He devoted his time to improving the quality of life both for Bella Terra and Estero. The family was very important to Bob and the priority in his life."
"I really enjoyed being able to walk down the street or have Bob stop by to discuss CDD, HOA, Village of Estero, or ECCL issues, concerns, or decisions. His engineering background and my financial analysis skills complemented one another!"
"I will miss him a ton. One of the finest gentlemen I've had the pleasure to know and care about."
How You May Honor Bob King's Civic Contributions
Because Bob cared so very much about maintaining a high quality of life in Estero and surrounding communities, he was a strong supporter of The ECCL Advocacy Foundation (EAF).
The EAF was established to provide resources to the ECCL when advocating to improve the quality of life in Estero and surrounding communities. The EAF is managed by the Southwest Florida Community Foundation (SWFCF), a Florida nonprofit corporation exempt from federal income taxes under Internal Revenue Code ("Code") section 501(c)(3), a public charity. Grants from the EAF are approved by the SWFL Community Foundation and are limited to civic activities of the ECCL.
Please consider donating to the EAF in Bob's name and expressing your respect and appreciation for his contributions. Please visit The ECCL Advocacy Foundation to learn more.