Estero Park and Recreation Center
Adopt a Park
The ECCL established one of the most successful volunteer programs in Estero history. The ECCL Adopt a Highway Program is staffed by Estero residents. Volunteers from over 30 communities and businesses stepped up to help keep the four-mile stretch of Hwy 41 from Breckenridge Road north of Walmart to Coconut Road) free of litter. Since October 2020, the total rubbish collected has been an astounding 9,380 pounds (just under 5 tons).
Adopt Estero Community Park
We have another opportunity for greater Estero residents to contribute their time and talents. We encourage residents to join the Adopt Estero Community Park movement and volunteer to polish this gem we have in the heart of our community.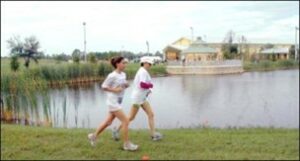 Located just off Corkscrew Road near Via Coconut Rd., Estero Community Park is a beautiful asset to all residents of Greater Estero. The Park covers over eighty acres without any interference from traffic. You can safely walk or bike around the Park, which is excellent for young children and families.
There is a popular 18 "hole" Frisbee golf course (turn up and play!). There are several bocce courts, football fields, places to play softball, horseshoe pits, ring toss lanes, and fishing, to name a few! More amenities include:
 
Amphitheater
Basketball Courts
Bird Watching
Charcoal Grills
Dog Park
Event Rentals
Free Wi-Fi
Jogging/Walking Path
Pickleball Courts
Playground
Soccer Fields
Volleyball/Sand Courts
The Park's Recreational Center has a fully equipped gym with excellent climbing frames, swings, slides, and other activities, for younger children. Membership costs $10 per individual or $25 per family for a lifetime membership!
It's Easy to Join the Movement
It is essential to maintain and enhance this great Estero Community Park. Because of the extensive area it covers, there is always a need for people to help.  
To learn more about how to join the Adopt Estero Community Park movement by volunteering, please contact Liz Szurminski, the Lee County Parks and Recreational coordinator, at lszurminski@leegov.com.
References
Photo Credit: Google Earth
We will publish a more detailed article covering all the amenities in September. In the meantime, you can check out the Lee County Parks and Recreation website for more details: https://www.leegov.com/parks/centers/estero