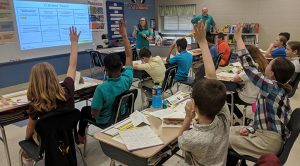 "You never spend more money than you make! You never spend more money than you make!" This enthusiastic chant is performed often and quite loudly in every one of Amy Kuchenbecker's Junior Achievement (JA) sessions at Three Oaks Middle School. Making 8th graders, a typically unexcited crowd, care about personal money management to the point of shouting and cheering is a formidable challenge.
For the past 15 years, as an Estero resident, Grandezza's Amy Kuchenbecker saw both her daughters going to school and then college with no formal training on how to handle their personal finances. The information on how to use credit cards, get health insurance, apply for a job, or avoid bankruptcy is typically experienced in the adult world. That made Amy determined to become a volunteer with the ECCL to help facilitate JA Programs at Estero-area Schools.
An all-volunteer initiative adopted by the ECCL, the JA's "2-5-8-Graduate" program caught Amy's attention in 2018. It is a community-wide collaborative effort involving three Partners; the ECCL, Village of Estero, and Junior Achievement of Southwest Florida.  The Program brings together community volunteers to team-teach JA classes at Estero-area Schools, teaching financial lessons to kids in grades 2nd to 12th.
In the first two years of the Program, Amy has worked to help adapt and update the curriculum and engagement level to serve the students better. The Program requires many moving parts to come together in harmony. She can talk with everyone with ease, from school principals to volunteers of various ages and backgrounds.
Jennifer MacLeod, an 8th-grade technology teacher at Three Oaks Middle School and Amy's primary co-conspirator, attests to the amount of planning and adjustments that go into each session.  Angie Guillette, Amy's teaching partner, adds, "Amy does a great job of working in stories that are relatable to the kids, including examples from her own life and current events that the kids are aware of."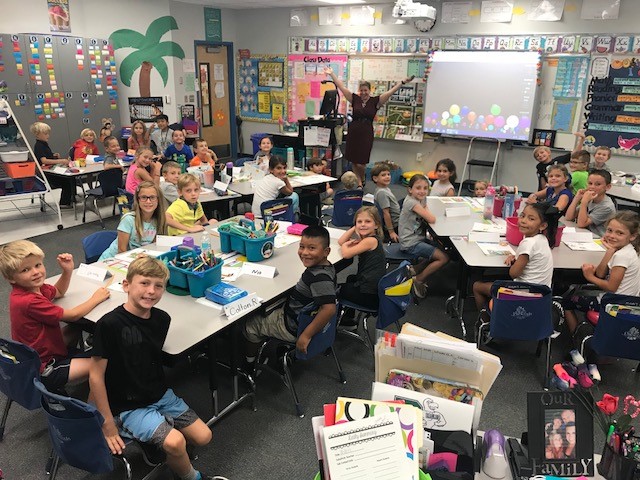 By volunteering to engage with Estero's children, she helps educate a generation about these values and how they are essential to building a thriving community.
The ECCL is grateful and most thankful to have Amy Kuchenbecker as a vital member of The ECCL Education Council. For her many achievements, the ECCL honors Amy Kuchenbecker as The ECCL Volunteer of The Year 2020.
Announced by Jim Shields on behalf of The ECCL Education Council.