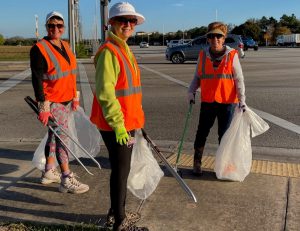 The ECCL collaborates with the Florida Department of Transportation (FDOT) to help clean an approximate four-mile section of the Tamiami Trail. Each month's work involves teams of volunteers who clean areas of the highway, between the Vines entrance (Breckenridge Road) north of Walmart and south to Coconut Road.
During the weekend of January 15th, the ECCL's team of volunteers collected over 700 pounds of litter from Hwy 41. That brings this season's total – starting in October 2021 – to 2,500 pounds (1.25 tons) and our total since October 2020 to 7,540 pounds (3.8 tons). These fantastic volunteers said, "We are all happy to be a part of promoting the vision of a litter-free Estero."
The volunteers who spent the recent weekend helping the "Adopt a Highway" initiative represented Rapallo, Copperleaf, Cascades, Pelican Sound, Wildcat Run, Bella Terra, Riverwoods Plantation, Meadows of Estero, and the Place at Corkscrew. The ECCL congratulates you all on your commitment to this worthwhile initiative.
The ECCL also wishes to express its sincere thanks to Marathon/Dos Amigos Authentic Mexican Grill, who have continued to provide ice and water to our volunteers to help them clean up Hwy 41 since the start of this initiative in October 2020.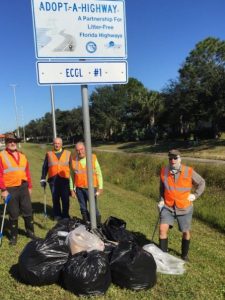 The ECCL appreciates the widespread community support given by Keep Lee County Beautiful. The ECCL also recognizes those volunteers in Estero working through the Lee County Adopt a Road program, and the Village-supported Adopt a Road Initiative. In addition, many neighbors pick up litter on their regular neighborhood walks. All these efforts make a significant difference in our community's environmental health and beauty.
The ECCL also appreciates the multiple businesses that have stepped up and significantly improved litter pickup around their properties in the last year or two.
If you are interested in finding out more about participating in one of our monthly small group events, please email ecclhwy41@gmail.com.
The ECCL posts these details on its Facebook page. If you would like to write a personalized message of thanks to these fantastic volunteers, please go to your Facebook page, type in "Estero Council of Community Leaders," and then "share." You can look at the posting of this article and other topics, but if you select "like" and write a short message, the volunteers would be most appreciative.
Jim Gilmartin ECCL President