The News-Press reported last Friday that new opposition to the Coconut Point hospital means delays and potential overturns of recent go-aheads from the Agency for Health Care Administration.
NCH Healthcare System and Physicians Regional Healthcare System filed Petitions to the governing body, requesting formal hearings in the next six months. The systems, both based in Collier County, claim that more hospital beds in the area would harm existing hospitals, increase patient expenses, and reduce the quality of care.
These hearings are usually held in Tallahassee, and it is likely that all three Southwest Florida projects mentioned in the petitons will be heard as a group.
The ECCL will continue to monitor the progress of the hospital application, and report to you. Bookmark the Health section of our website for quick access to updates.
---
June 29, 2018 article by Liz Freeman in the Fort Myers News-Press.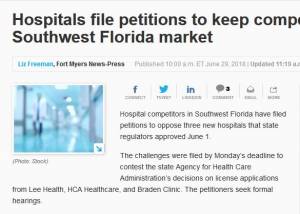 "Hospital competitors in Southwest Florida have filed petitions to oppose three new hospitals that state regulators approved June 1.
The challenges were filed by Monday's deadline to contest the state Agency for Health Care Administration's decisions on license applications from Lee Health, HCA Healthcare, and Braden Clinic. The petitioners seek formal hearings."
Read more
---