New development proposals this month include a five-story hotel at Coconut Point and a self-storage facility near Miromar Outlets. The Village is still refining its Bonus Density program for public land acquisition and reviewing possible provisions for the Comprehensive Plan. Aldi grocery store continues to tweak its design plans, and NCH is preparing to fight a Design Review Board decision to deny a development order based on the proposed 24/7 emergency department being in conflict with Coconut Trace's allowed hours of operation from 7 a.m. to 11 p.m. in addition to the DRB's concerns about the layout and design of the property.
A special meeting of the Planning and Zoning Board (PZB) will be Tuesday, Aug. 29 at 5:30 p.m. for review of Comprehensive Plan amendments. The next Design Review Board meeting will be Wed., Sept. 13, at 5:30 p.m. The next regular PZB meeting will be Tuesday, Sept. 19, at 5:30 p.m.
Village Council Actions
Bonus Density Land Acquisition
Council continued the discussion for a resolution which would establish a Bonus Density program for Estero. Bonus density allows a developer to build more dwelling units per acre than permitted in exchange for paying the Village a fee per added unit. Under the pending proposal the funds would be used for the acquisition of public lands providing open spaces, recreation or preservation. The proposed resolution currently would apply only to three developments previously approved by Lee County's for its bonus density program: Estero on the River, Estero Grande and Downtown Estero. Two of these developments are requesting reduced fees. The proposed bonus density fee is $20,000 per unit. Council will revisit the bonus density discussion in September.
Edera at Coconut Point (Coconut Point Tract 1A)
Council approved the second reading of a rezoning ordinance for Edera at Coconut Point. This is a 180-unit apartment complex proposed for a 13-acre site on the east side of Via Coconut Point, south of Williams Road. Average rent would be $1,500, according to representatives. Edera would offer public use of its lake including a pedestrian path and observation deck. Plans call for median landscaping on  Via Coconut, the round-about and Williams Road and a northbound right turn lane into the property. Edera representatives have met with the Palmetto Ridge Homeowners Association in the Brooks to address their concerns and have agreed to add landscaping so there is no line of sight from Edera to the Palmetto Ridge pool. Edera will have four, three-story apartment buildings with elevators. Amenities will include a recreation center, pool, green space, bike sharing program and trolley service to Coconut Point Mall and the future Lee Health Coconut Point facility. A covered transit stop will be added along Via Coconut Point. Edera's presentation may be viewed here.
Planning & Zoning Board Actions
Park Place of Estero
This is a single-family home community at 9400 Block Lane, west of River Ranch Road. It was previously approved by Lee County for 26 homes. The developer is requesting a reduction in the number of lots to 16 and the addition of a half-acre lake with a fountain and a public sitting area. This would be a gated community of one- and two-story, semi-custom homes. Three heritage trees will be preserved, along with the existing oak trees along Block Lane. The PZB recommended Council approve this application with a few minor changes. The developer's presentation may be viewed here.
Hilton Garden Inn (Coconut Point Tract 1-D-3)
Representatives for Hilton Garden Inn made a public presentation of plans to build a 150-room hotel on a two-acre site at the southwest corner of Via Villagio and Sweetwater Ranch Boulevard next to the Estero fire station at Coconut Point. The developer is requesting a maximum height of 55 feet rather than the currently allowed 45 feet for the five-story hotel. A hotel was previously permitted on a different tract of land slightly to the north at a height of 55 feet. This was a public information meeting only so there was no vote or recommendation. The developer's presentation may be viewed here.
University Highlands (self-storage)
The developer is seeking to convert previously zoned office/retail space to 90,000 square feet of self-storage space off of Ben Hill Griffin Parkway  in front of the Tidewater community  and across Ben Hill Griffin from the Grandezza community.  Analysis by transportation/civil engineering firm David Plummer & Associates determined fewer trips would be generated by self-storage than office/retail use. This was an informational meeting only. The presented data may be viewed here.
MidiCi Pizza
MidiCi Neapolitan Pizza Company was approved to sell alcoholic beverages and have outdoor seating at its location when it opens in Coconut Point Mall between Starbucks and Panera Bread. The restaurant will seat 73 inside and up to 51 outside with operating hours from 11 a.m. to midnight.
Design Review Board Actions
Aldi at Town Center
Aldi grocery store brought back design changes as part of a public information meeting with the DRB. Aldi is now proposing one, 22,000-square-foot store to the north of Walmart and is no longer requesting a separate entrance. The new design moves the store closer to US 41, includes pedestrian connectivity to Walmart and U.S. 41, and the parking lot (largely south of the store) has been reduced in size. An eight-foot wall will buffer the grocery store from The Vines at Estero Country Club. Other additions include a metal roof, varied roof line, contrasting colors and an enhanced canopy. Hours of operation would be 8 a.m. to 9 p.m. Four residents spoke about traffic and safety concerns pertaining to a connector road linking to the entrance for The Vines. Aldi's presentation may be viewed here.
NCH Medical Facility
The DRB denied NCH Healthcare System's application for a development order on a 3.5-acre site on the west side of U.S. 41 in Coconut Trace, across from the entrance to Coconut Point Mall. NCH is proposing a two-story, 41,664-square-foot building. This $30 million outpatient medical facility would include a 24/7 emergency room, surgical suites, support services and physician's offices. This would be an offsite emergency department for Naples Community Hospital. Four residents spoke in opposition, and one resident (an NCH physician) spoke in favor. The board denied the application based on numerous deficiencies in the layout and design and the 24-hour operation of the emergency room, which is at odds with Coconut Trace's zoning for hours of operation from 7 a.m. to 11 p.m. The NCH presentation may be viewed here.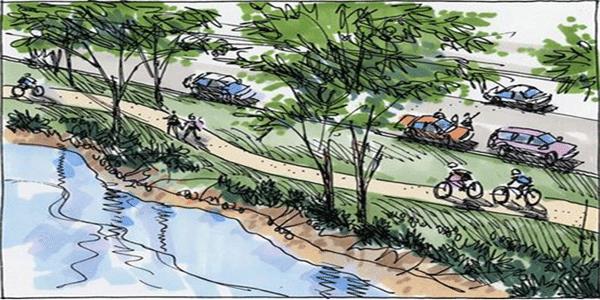 Comprehensive Plan
During a special meeting of the Planning and Zoning Board, Jim LaRue (LaRue & Associates) and Laura DeJohn (Johnson Engineering) led discussion on five elements of the Comprehensive Plan. The following goals were presented:
Public School Facilities — The Village will assist the School District of Lee County and other providers of education (where appropriate) with the planning, development and siting of schools in order to promote co-location of facilities that benefit Village residents and promote opportunities for school children of the Village to attend schools located in the Village.
Note: PZB members suggested the Comprehensive Plan should advocate curriculum development that would be reflective of Estero.
Conservation and Coastal Management — The Village's unique natural environment consists of wildlife and plant communities, the Estero River and its tributaries leading to Estero Bay that defines the Village's western boundary. The Village will support and promote public access to greenway and waterfront areas by residents and visitors in ways that do not compromise the protection of these natural resources.
Note: A representative of the Department of Environmental Protection spoke about water quality being affected by runoff from agriculture, impervious road surfaces, pet waste and septic tanks. "Green" infrastructure is needed to protect Estero Bay and its wildlife.
Infrastructure — To ensure the public health, welfare and safety by providing and coordinating with providers to deliver high-quality water, sewer, drainage and solid waste services and facilities throughout the Village of Estero, and to ensure that the costs of providing services and facilities are borne by those who benefit from them.
Intergovernmental Coordination — The Village shall coordinate with all government agencies and other entities implementing plans, services and programs affecting the Village.
Capital Improvements — To provide public facilities and services adequate to serve the needs of both existing and future development.
Note: Council has adopted a capital program budget for fiscal year 2017-18 totaling $5,837,200 including transportation projects, other capital projects, Estero Parkway improvements and stormwater improvements.
A summary of the meeting and links to documents pertaining to each of the five elements may be found here.