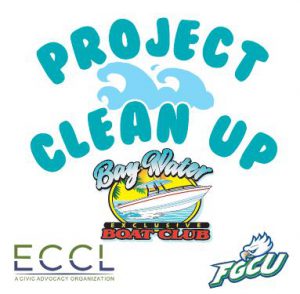 Estero, Fl., Feb. 26, 2020   A group of boaters departed the FGCU Marine Field Station on Sunday morning, February 23, carrying forty-three (43) volunteers, on a special mission.  Their goal: an environmental cleanup of the pristine waters of Estero Bay.  Their catch: over 150 pounds of discarded debris and waste materials.
In a collaborative effort between the Estero Council of Community Leaders (ECCL), Florida Gulf Coast University and Bay Water Boat Club, this first-time initiative was deemed an outstanding success and, based on the positive community reaction, plans for similar projects will be developed, hopefully on a bi-annual basis.
The day began at 8 AM, with an assembly of volunteers at the FGCU Vester Marine Field Station and concluded with lunch, provided by BlackJack Pizza and a seminar conducted by Dr. Mike Parsons, FGCU Professor of Marine Science.  The project entailed a three hour on-the-water cleanup, with the boat flotilla traveling in tandem from the Vester Station to Wiggins Pass, south to Bonita Beach Road and north to Mound Key.
According to Dr. Parsons, "The growth potential for this type of undertaking is exciting and demonstrates the interest and dedication of the community to address environmental issues related to our waters. FGCU is pleased to offer the continuing support of the Marine Sciences Department for future events of this nature".