You have no doubt noticed construction is booming again. To keep you abreast of the latest developments, the ECCL is including a series of EDR articles on these new developments. Last month's EDR included an article on construction of senior living facilities and rental apartments currently under construction. This article focuses on five new residential communities already underway that are expected to add over $100 million to Estero's tax base. Next month's article will describe projects in various stages of planning not yet under construction.

Estero Place will be a 102 single family residential gated community located on the southwest corner of Corkscrew and Three Oaks. Being built by Neal Communities, the development includes over 17 acres of preserves and a nature boardwalk. The grand opening was held about a year ago, construction is well underway with about half of the construction permits already issued.

Pebble Pointe at the Brooks will consist of 90 single family residential units in a gated community at the eastern end of Coconut Point Rd. Once nicknamed the "Martini Glass" because of its unique Y shaped development site, is bounded on its east by I 75. The Taylor Morrison development includes a lake, a dog park and a gazebo. Started earlier this year, about one fourth of the permits have already been issued with model homes available.

Oaks of Estero, also being built by Neal Communities, is planned for 23 three or four bedroom single family homes within a gated community. It is located off Block Lane west of River Ranch Rd. The developer announced plans for a sidewalk to the Estero Community Park. Model homes are nearing completion with the grand opening expected this November.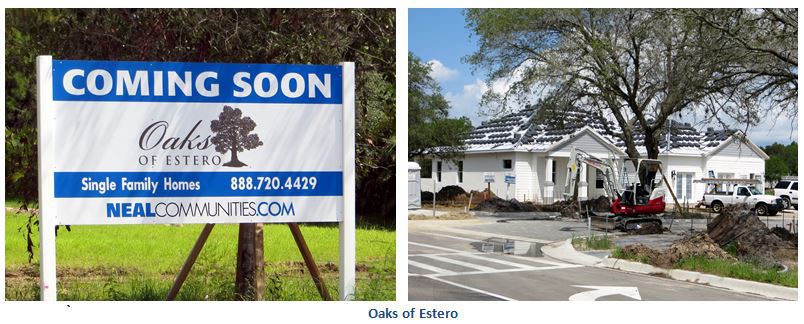 Tidewater is a Dell Webb development. The first phase, constructed by Pulte Homes, will be an upscale, 55+ single family gated community. The clearing of the land is well underway on this 377-lot, 130-acre community on the southwest corner of Ben Hill Griffin and Estero Parkway. The development will include a 2-5 bedroom homes with a club house, heated pools, and bocce and pickleball courts. Construction has begun on a sales office and model homes. Grand opening is expected late this year.

Corkscrew Shores, being built by Pulte Homes, will include 648 single family homes on Corkscrew Rd. about 3 miles east of I 75, just outside Estero's Village limits. It features one and two story homes with a club house, a pool, tennis and pickleball courts, as well as a 240-acre lake with walking trails. Construction is well underway with homes available for sale. The grand opening of the amenity facility is planned for November 5.