Construction in Estero is booming again. New residential and commercial construction developments are underway.  And many more are in the planning process.  The next several editions of the EDR will include information on these developments, both those under construction and being planned.  This article focuses on senior facilities and rental apartments already being built which are expected to add about $60 million to Estero's tax base.
Market Research
In 2013 the ECCL commissioned Seth Harry and Associates and Peloton Research Partners to conduct a research study to evaluate the real estate market in Estero.  Their report, dated September 16, 2013, identified two major needs and opportunities for Estero.  The report stated "future planning for housing…should include more emphasis on continuing care, assisted-living, and Alzheimer's facilities."  The report also stated that "a significant amount of rental housing should be offered…to provide housing for working couples, singles and retirees."  Already the market is responding with construction of two senior facilities and three apartment complexes described below.
Senior Facilities
American House Coconut Point will be a senior living community with 194 units of independent living, assisted living and memory care apartments.  It will feature dining, spa services and a fitness center.  It is located on Pelican Colony Boulevard, just south of Lee Memorial's planned Health Care Village and the Coconut Point Mall.  American House Senior Living Communities is considered a quality developer with 35 facilities in Michigan.  The Estero facility is expected to open in the spring and summer of 2016.

Autumn Leaves will be a family owned and operated assisted living community with 54 units devoted to memory care.  It is being developed by the LaSalle Group on the west side of U.S. 41 across from the Coconut Point Mall. There will be a variety of size units ranging from studios to units with standard size or larger rooms. The facility expects to open in the fourth quarter of this year.

Rental Apartments 
Springs of Estero will include 260 apartments on 18 acres aside the entrance to Germain Arena.  The property is being developed by a Wisconsin-based firm, Continental Properties, which is known for building luxury apartments.  This development will include rental studio, one-, two- and three-bedroom residences, along with a clubhouse, playground and pool all within a gated community.  The development is expected to open later this fall with the entire complex being occupied by April, 2016.

Courtyards at Estero will include 136 luxury apartments located in 17 two-story buildings, along with a clubhouse, swimming pool, fitness center and dog park.  The apartments are located on the north side of Corkscrew just west of the I-75 exit.  The developer is a Boca Raton company, Focus Development Group.  The entire development is scheduled for completion in May, 2016.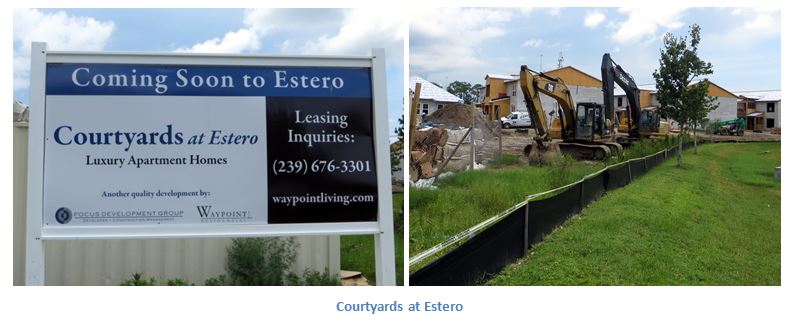 Estero Oaks is a 36 acre mixed-use development at the northwest corner of Estero Parkway and Three Oaks Parkway, just outside the Village boundaries. The development will feature 280 one-to-three bedroom apartments ranging in size from 800 to 1400 square feet.  The apartments will be positioned around a four acre lake with pubic open spaces and landscaped boardwalks/sidewalks for walking and biking to the adjacent planned commercial use area.  Anticipated commercial uses include restaurants, small retail businesses and offices. The mixed use project is being jointly developed by Oakbrook Properties and Royal Palm Homes. The residential portion is expected to be open in the third quarter of 2016.