A Tale of Resilience and Hope
Hurricane Ian's center hit Florida at 150 mph near Cayo Costa, a barrier island west of Fort Myers, shortly after 3 p.m. ET on Wednesday, September 28, 2022. In greater Estero, the hurricane selectively wiped-out neighborhoods and flooded homes in roof-deep waters. With sustained winds of 150 mph (240 kph), it was one of the strongest hurricanes to hit southwest Florida.
Estero communities hit hard by Hurricane Ian include large areas of homes on West Broadway, 1,369 homes, and approximately 2,738 residents. The areas included Estero Bay Village, Mariners Cove, Sherrill Lane/Luettich Lane, Charing Cross, Riverwood Plantation, Quarterdeck Cove, and Estero River Heights.
Sorrow can run the gamut from frequent tears to utter despair. For those who lose it all to a natural disaster and even those spared, the grief can be devastating, returning home to find so much gone. In Lee County, two men in their 70s committed suicide after viewing their losses.
Estero has a year-round population of around 30,000. Most of us escaped significant destruction and devastation. However, it is an area where there are many older homes and double-wide that either were damaged or destroyed. To make things worse, many residents are older and have lost everything.
"Research has shown that between a third and half of those who survive a disaster develop some type of mental distress," said Jennifer Horney, an epidemiology professor at the University of Delaware who studies natural disaster impacts on public health. "Post-traumatic stress disorder, depression, and anxiety rise."
The Estero Council of Community Leaders (ECCL) has worked hard to assist families suffering hardship and heartbreak following Hurricane Ian. We responded to Mayor Katy Errington's plea for contributions and were instrumental in the Estero Forever Foundation securing donations reaching more than $103,000. The donation task force is working closely with the United Way and Interfaith Charities to expedite the distribution of funds to deserving recipients in affected areas.
The ECCL also donated an additional $5,000 to assist those suffering from the hurricane, and we donated additional funds to others in greater Estero seriously impacted by the storm.
But this is not enough. Residents say the storm surge traveled up the Estero River and combined with strong winds to level neighborhoods. Cleaning up the mess of a damaged home or finding a new one in the wake of a catastrophe gives way to the longer-term challenges of navigating the maze of bureaucracy for financial assistance, securing permits for rebuilding, or fighting insurance companies over reimbursements.
Victims of such a horrific experience need TLC. In the aftermath of a disaster, communities typically pull together to recover and rebuild. Rescuers, relief workers, and nonprofit organizations provide food, funding, and other help, including counseling. But attention eventually fades, and the money dries up. "When someone's in a state of trauma, they don't know where to begin," said Beth Hatch, CEO of the Collier County, Florida, branch of the National Alliance of Mental Illness. "They need that handholding, and they need to know that so many people are here to help them."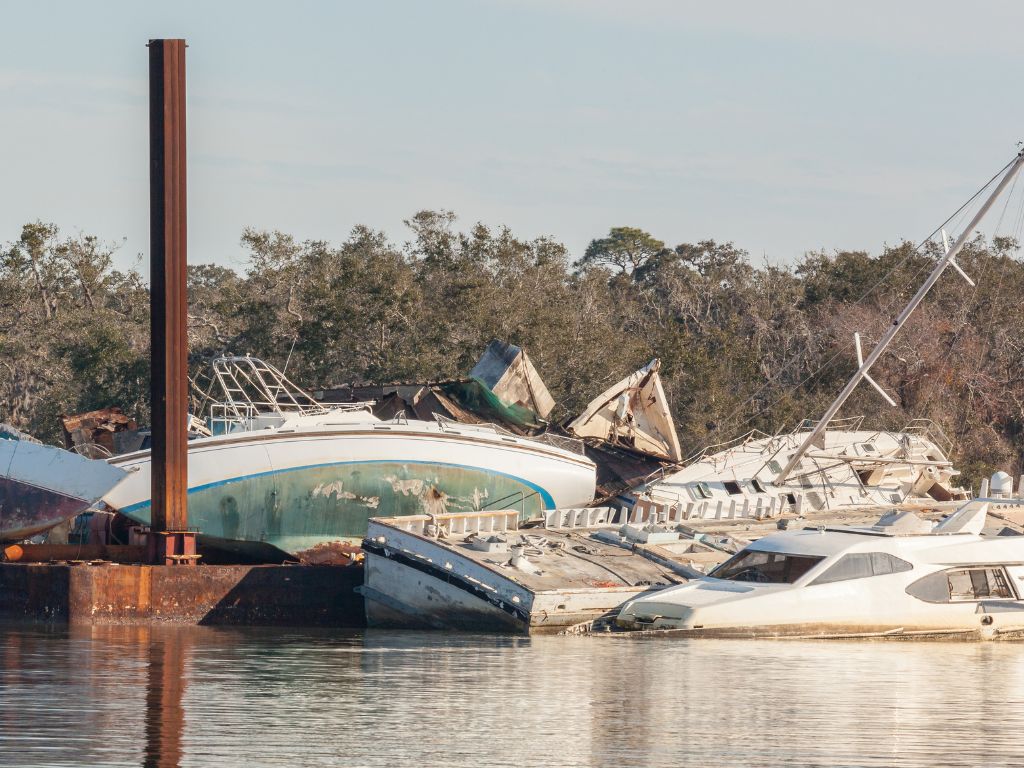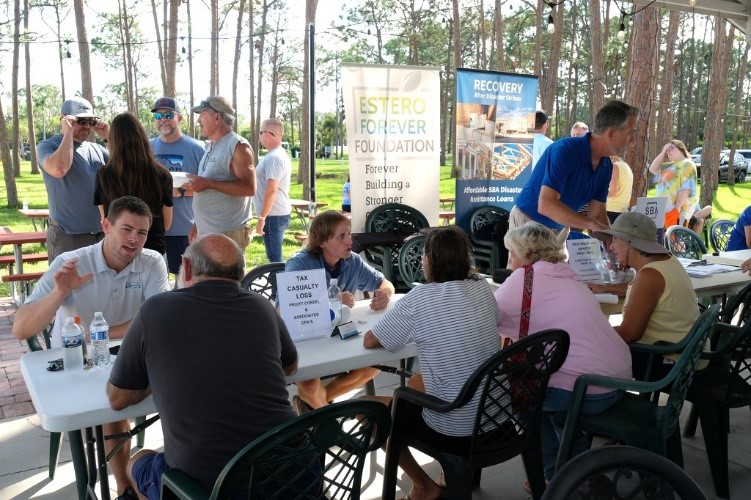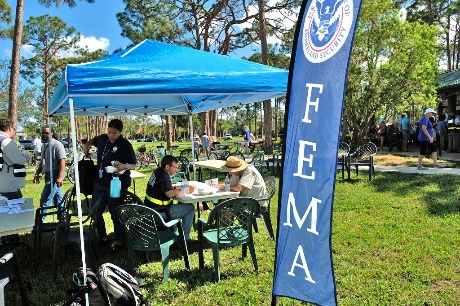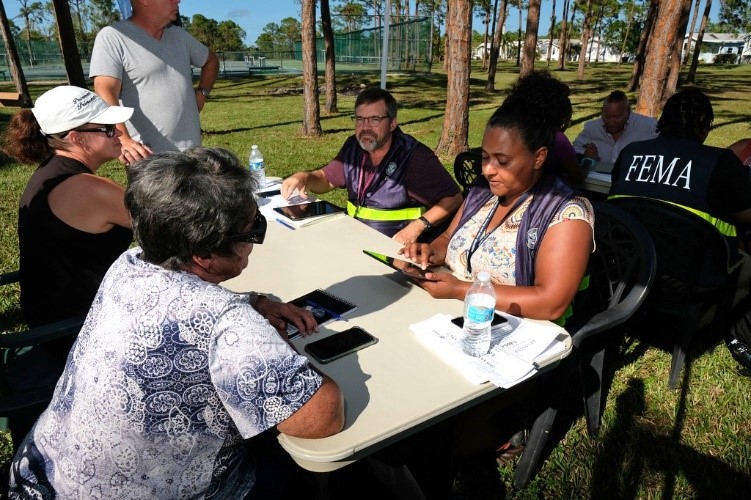 We are grateful for
Volunteer Helping Hands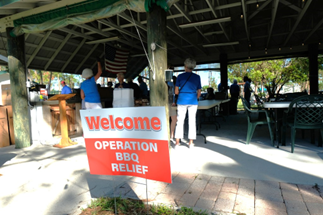 The Estero Council of Community Leaders (ECCL) was instrumental in the Estero Forever Foundation securing donations reaching more than $103,000. In addition, ECCL leaders Jim Shields and John Quin organized a 2-day gathering on November 5 and 6 at Riverwoods Plantation on West Broadway. The purpose was to provide a modicum of handholding and information. Hot meals, social interaction, and helpful information were also provided directly to those in the West Broadway area affected by the horrible event of hurricane Ian.
The event helped residents understand better how to get relief, learn how the FEMA 50% rule works, how the Village of Estero intends to help people who have already begun or need repairs, and how to avoid making costly mistakes in rebuilding. For two days, starting with multiple meetings with West Broadway leadership and the Village of Estero, they secured a commitment from Operation BBQ Relief, followed by site selection and site preparation.
We are most grateful to Riverwoods Plantation Board President Phil Boal and his wife, Mary Jo. They graciously agreed to support the gathering at Riverwoods Plantation Pavilion near the homes hard hit by hurricane Ian. The Pavilion was ideal for our resource invitees to provide one-on-one counseling sessions for those in need. Community leaders Brian Hood, Kathleen Gunning, Steve Wojciechowski, Candace Farmer, and others supported our efforts at every step. We appreciated their advice and counsel.
The one man most recognized as serving the people in the devastated communities is Pastor Frank Brand of Estero First Baptist Church. He knew the residents in need and was there when they needed him most. Thank you, Pastor Frank, for your continued service to your congregation and beyond.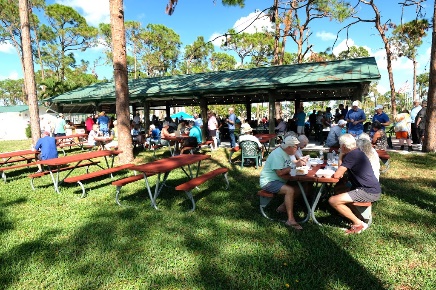 Of course, the gathering would not have been successful if it were not for the Riverwoods Plantation and local community volunteers. We had volunteers from 6 ECCL Communities, FGCU, and Estero High School. For two days, they welcomed residents, expressed empathy, prepared the site, served meals, directed traffic, cleaned up, and welcomed those who participated in the gathering.
Help from LEAD Estero student volunteers was also greatly appreciated. For people who could not get to the gathering, meals and supplies were delivered home. The unused food was distributed to the mobile home parks along Tamiami Road. Surplus food and supplies were taken to the First Baptist Church. The water left over will also be contributed to the church over the next few days.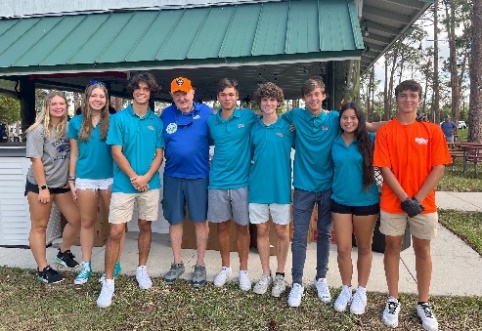 Molly Grubbs, Karen Krieger, and others from Lee Health provided a quick response, delivering two large pallets of water for the gathering. Jonathon Walsh, the former Chief Building Official for Collier County, provided information on disaster recovery rules on both days. George Zalucki of the Estero Forever Foundation provided information and applications for financial assistance.
We appreciate Village of Estero Mayor Errington and Council members Joann Ribble, Larry Fiesel, and Jon McLain, who participated, expressed their concerns, and answered questions. The Village of Estero Manager, Steve Sarkozy, and Matt Noble, Village Planner, addressed resident worries on both days.
We are grateful to FEMA representatives and representatives from the Small Business Administration, United Way, Housing and Urban Development, and Estero Forever Foundation, and residents who also participated and offered support.

Finally, we sincerely thank Operation BBQ Relief for providing daily meals enjoyed by residents and shared with others in our communities. Operation BBQ Relief is a 501(c)(3) nonprofit organization founded in May 2011. The nonprofit has provided over 9 million meals throughout the United States and internationally following natural disasters and COVID-19 response, and through The Always Serving Project, benefiting the homeless, first responders, veterans, and military members.
Having been staged for weeks in Charlotte County to serve hurricane-impacted victims, Operation BBQ Relief was in shut-down operations the weekend before the gathering. They changed plans when ECCL requested them to meet the needs of residents attending the West Broadway gathering on November 5 & 6. At the outset, we said we would need 1,600 meals daily: separate days and deliveries. They committed to doing what we needed.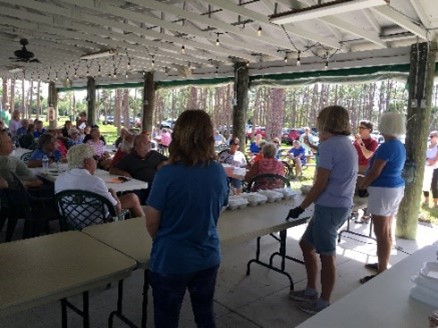 Hurricane Ian, one of the most powerful storms to menace the United States in decades, washed away roads, bridges, cars, boats, and homes and knocked out power for millions of people. The storm pulverized roads, toppled trees, gutted downtown storefronts, and set vehicles afloat, leaving a soggy scar of ruined homes and businesses. The scale of the wreckage was staggering, even to Florida residents who had survived and rebuilt after other powerful hurricanes.
Greater Estero did not suffer the full effect of the menace, but selected communities and neighbors did suffer astonishing wreckage, including those on West Broadway. Government and private organizations mobilized to offer support and funds. Neighbors that escaped the worst helped those that didn't.
Riverwoods Plantation immediately agreed to offer their community Pavilion for the gathering, and they also had a core of volunteer workers to serve more than 1200 meals. They made sure others on West Broadway who could not attend the gathering received a meal.
A big thank you to all that volunteered, allowing the ECCL to sponsor the gathering at Riverwoods Plantation Pavilion. Staff from FEMA, SBA, United Way, Estero Forever Foundation, Village of Estero, and other nonprofits provided counseling and support to West Broadway residents. Our efforts must continue.
The ECCL is also providing $7,500 in grants to:
The Riverwoods Plantation Resort – Memorial Fund provides funds to support various projects during the year to assist the community volunteers serving the community – $2,500.00.
First Baptist Church of Estero, Pastor Frank Brand – $2,500.00
Operation Barbeque Relief, nationally recognized relief organization that provided 1,200 meals at West Broadway – $2,500.00.
The ECCL
The ECCL is an all-volunteer, nonpolitical, nonprofit community engagement association.
Our purpose is to increase resident awareness of community issues and encourage resident engagement to impact the quality of life in greater Estero.
What We do, we do with commitment, passion, and pride in our community.
Our volunteers provide transparency by communicating informed and collective opinions to residents to build trust.
We conduct research, share findings, seek opportunities, offer solutions, and challenge threats to stimulate resident engagement.
We organize live and online educational forums to provide knowledgeable and balanced information.
We collaborate with environmental, water, safety and transportation, community health, and local education organizations, strengthening our voices and increasing favorable community impacts.
Finally, we aspire to have a population of aware and engaged residents, resulting in a community that delivers the quality of life desired by its residents.