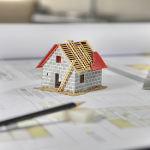 The value of all residential permits issued in 2018 totaled $138 million — the highest in over a decade. The total included $42 million for over 1,100 permits for roofing, presumably related to Hurricane Irma. The 12-year high was achieved even without including the roofing permits.
In terms of new home construction, permits for four hundred seven (407) residential units were issued. The total included a mix of one hundred ninety-eight (198) apartments, one hundred forty-three (143) single-family and duplex homes, and sixty-six (66) multi-family condominiums.  This nearly 50% mix of apartments is similar to 2017 and 2015, when apartments and student housing represented 60+ % of the units. Traditionally, residential permits have been dominated by large-scale developments of single-family homes in gated communities – most recently along East Corkscrew.
In 1998, by community, the 198 apartments were permitted for Estero Grande, the mixed use, multi-family development at the corner of US 41 and Estero Parkway. After several years of inactive development, Copper Oaks on Three Oaks permitted 83 single-family and duplex homes. Development, which began in 2015, continued at Tidewater, the over 55 community at Estero Pkwy and Ben Hill Griffin, and received 62 single-family and duplex permits in 2018. The Genova development on Via Coconut pulled 33 permits for condominium units in its third building. Pebble Pointe at Via Coconut and Coconut Rd obtained 16 permits as it nears build-out.
The following table compares 2018 figures with those of the previous 18 years.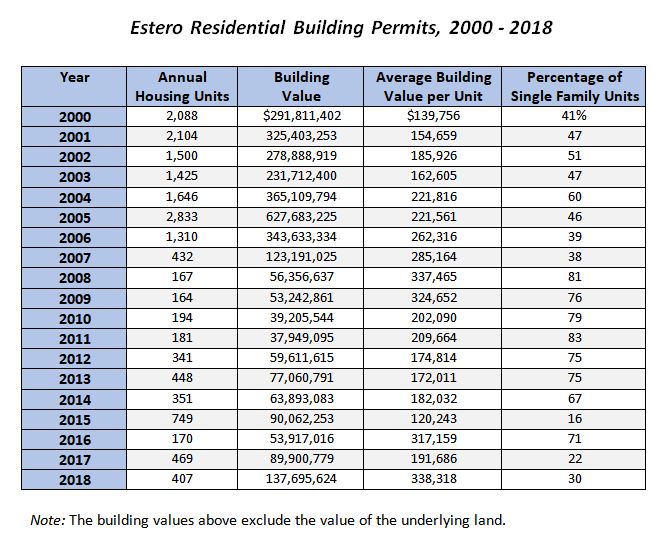 Sources
For 2016 through 2018, see Village of Estero Community Development: https://estero-fl.gov/monthly-building-reportrs
For prior years, see Lee County Permit Reports for the Village of Estero: http://www.leegov.com/dcd/reports