Estero's commercial permits in August 2017 totaled $3,210,295, up from an especially weak July total. August permits included $1.9 million for renovations within Miromar Outlet Mall, including $1.6 for the new H & M store.  For the year, over $6 million has been invested in renovations within Coconut Point and Miromar malls.  August figures also benefited from an additional $.5 million build-out of Living Waters Church.
As shown below, 2017 year-to-date figures are well above the last nine years, primarily because of Lee Health's $82 million permit for Estero's Medical Village.
The table below compares 2017 year-to-date totals with those of the previous 17 years.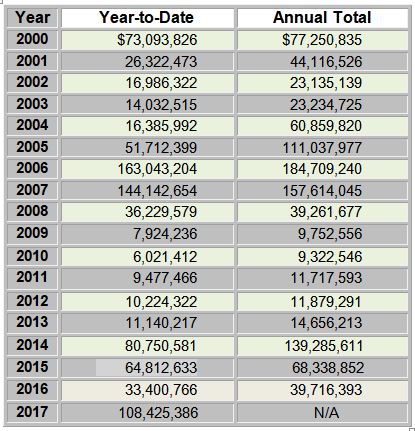 Note: The building values above exclude the value of the underlying land.
Sources:
For 2016 and 2017, see Village of Estero Community Development: see https://estero-fl.gov/monthly-building-reportrs/
For prior years, see Lee County Permit Reports for the "Village of Estero":