During December 2017, permits for forty-three (43) residential units were issued.  This included a thirty-four unit building within Genova Coconut Point on Three Oaks, seven (7) single-family homes, and two (2) duplexes.  Six of the nine single family units were issued to Tidewater on Ben Hill Griffin and Estero Parkway. The total value of all residential permits during December was $11,743,640.
For 2017, the building value, as shown below, approached $90 million, one of the best years since 2007.  Over 40% of the nearly $90 million was for multi-unit complexes like apartments at Springs at Gulf Coast and The Reef, and the condominiums at Genova. On a unit basis, of the 469 single-family permits, over half were issued to Tidewater.  The rest were issued to Pebble Pointe, Estero Place, West Bay and Oaks of Estero.
The table below compares 2017 figures with those of the previous 17 years.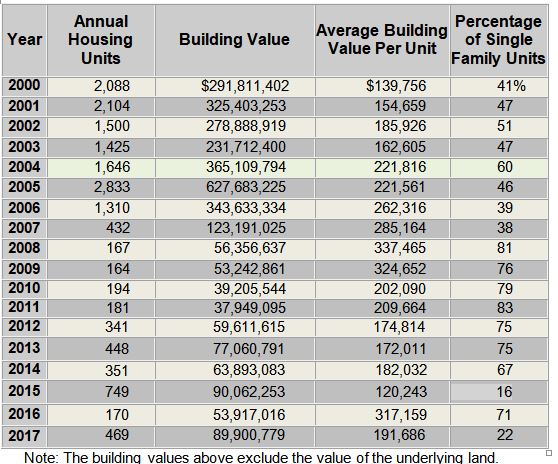 Sources:
For 2016 and 2017, see Village of Estero Community Development: https://estero-fl.gov/monthly-building-reportrs/
For prior years, see Lee County Permit Reports for the "Village of Estero": http://www.leegov.com/dcd/reports