For the first four months of 2018, the value of Estero's commercial permits totaled $15,175,346, including $5.3 million for 64 buildings needing new roofs and/or roof repairs as a result of the hurricane.
As for new construction, the period included $2.3 million for the Shoppes at Grand Oaks on Ben Hill Griffin across from Miromar Outlet Mall, $2.0 million to renovate the West Bay clubhouse, and $1.1 million for interior build-outs of two retail shops in Coconut Point Mall.
For comparison purposes, last year's first four months' figure included the $82 million permit for the new Lee Health — Coconut Point health and wellness campus.
The table below compares 2018 year-to-date totals with those of the previous 18 years.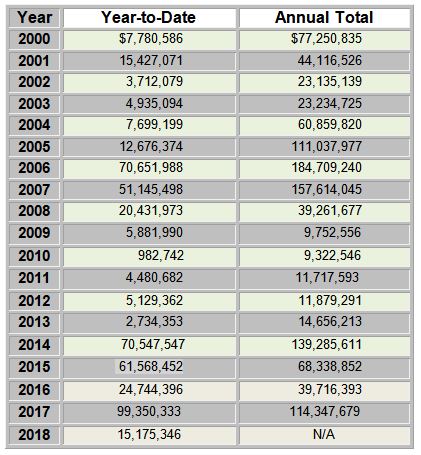 Note: The building values above exclude the value of the underlying land.
Sources:
For 2016 through 2018, see Village of Estero Community Development: see https://estero-fl.gov/monthly-building-reportrs/
For prior years, see Lee County Permit Reports for the "Village of Estero": http://www.leegov.com/dcd/reports