Estero's commercial permits in May, 2017 totaled $4,074,762, including $2 million for the renovation of the old Sports Authority location in Coconut Point Mall.  So far this year, over $4.7 million has been invested in renovations within the Mall.  This year's total investment in commercial properties should prove to be one of the largest in Estero since 2007, largely due to last month's $82 million for the Lee Health Care Village.
The table at right compares 2017 year-to-date totals with those of the previous 17 years.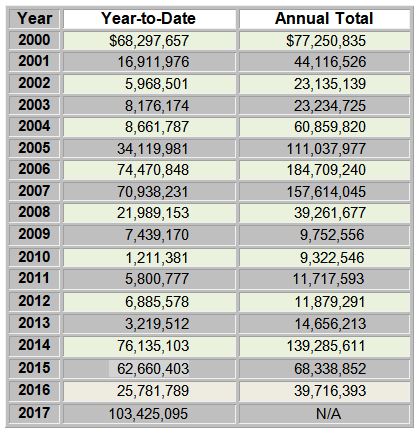 Note: The building values above exclude the value of the underlying land.
Sources:
For 2016 and 2017, see Village of Estero Community Development: see https://estero-fl.gov/monthly-building-reportrs/
For prior years, see Lee County Permit Reports for the "Village of Estero": http://www.leegov.com/dcd/reports