During May 2017, permits for fifty-five (55) residential units were issued in Estero, including seventeen (17) single family homes, two (2) duplex homes and thirty-six (36) condominium units. The condominium permits were the first construction permits issued to Genova on Via Coconut.    Of the seventeen (17) single-family permits, ten (10) were issued to Tidewater, the 55+ gated community at the SW corner of Ben Hill Griffin and Estero Parkway, and five (5) were issued to Estero Place on Via Coconut. The total value of all residential permits issued during the month was $14,391,832.
The table below compares 2017 year-to-date figures with those of the previous 17 years.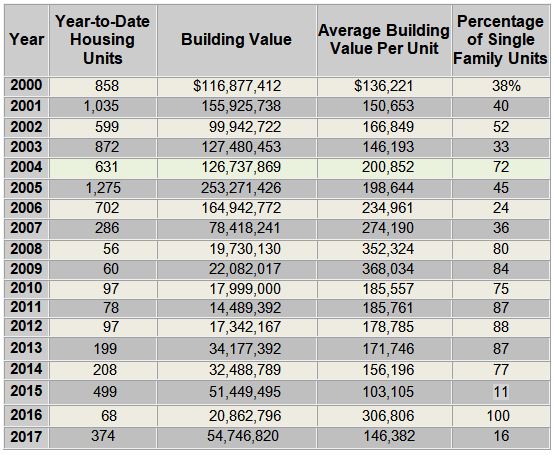 Note: The building values above exclude the value of the underlying land.
Sources:
For 2016 and 2017, see Village of Estero Community Development: https://estero-fl.gov/monthly-building-reportrs/