In August 2017, forty-two (42) single family homes were sold in Estero, down 26% from August 2016.  Quarter-to-date sales are almost level with 2016, while year-to-date sales are up 5%. The four hundred thirty-eight (438) homes sold so far this year represents the best annual start since 2010, when the ECCL first started tracking monthly sales.
Sales figures for 2017 and for each month for the previous two years are shown below: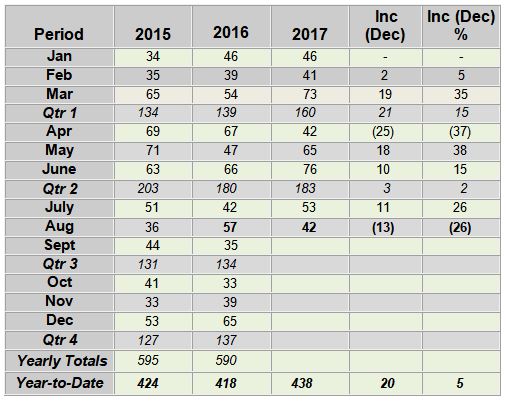 At August 31, there were 399 listings of currently active, unsold homes (i.e., "inventory"). This is about a 7-month supply, which is unchanged from the last two months and near the level reported throughout the second half of last year.  Pending sales totaled 87 homes.  Although, this level is down from more robust levels in the first half of the year, the decline is typical for the last half of the year.
Distressed sales in August, along with distressed sales in inventory at the end of August, remained near the 1% to 2% level, the lowest levels since 2012.
Continued thanks to Joe Pavich, Sr. of Realty World in Estero for supplying us monthly sales and inventory figures. 
Notes:    1) "Distressed sales" include short-sales and sales of bank owned property in which the bank           receives less than their loan amount.
2) Figures include homes in Estero (excluding homes in the Estero portion of Pelican Landing, which are not separately shown in the MLS).  Also not included are figures for multi-family homes.
Source: Multiple Listing Service ("MLS").