The second ECCL "Adopt a Highway" season has officially and successfully concluded. The ECCL and Julie Yellig, who organized the program in 2020, would like to thank all those volunteers who have participated in helping clean Hwy 41 in Estero.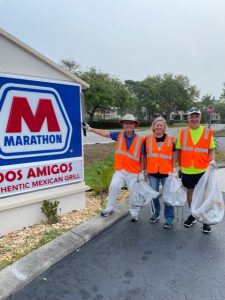 Volunteers from over 30 communities and businesses stepped up to help keep the four-mile stretch of Hwy 41 (from the Vines entrance (Breckenridge Road) north of Walmart to the Coconut Road) free of litter.
This month, volunteers representing Rapallo, Copperleaf, FGCU, Pelican Sound, Wildcat Run, Bella Terra, Belle Lago, Meadows of Estero, and Stoneybrook collected an impressive five hundred eighty pounds of litter.
This season, the volunteers collected 4,340 pounds (2.2 tons).
Since October 2020, the total litter collected has been an astounding 9,380 pounds (just under 5 tons).
The ECCL sincerely appreciates the commitment of volunteers in one or more of these programs and the many residents who grab a bag and pick up litter on their regular walks.
The ECCL also expresses its gratitude to Marathon/Dos Amigos Authentic Mexican Grill for providing water and ice to our volunteers for the last two seasons. Their support is very much appreciated.
We're also pleased to share that every section of the county roads in Estero has now been adopted through Lee County's Adopt a Road program. Rookery Pointe/Heatherstone and RMS (Residential Maintenance Solutions) have recently taken responsibility for sections of Three Oaks Parkway and Corkscrew Road, respectively.
Volunteers have adopted other county road sections in Estero from Country Creek, Estero Rotary Club, River of Life Church, Suffolk Construction, Pro-line, and several FGCU organizations.
In addition, with the support of the Estero Village Manager Steve Sarkozy and the Keep Lee County Beautiful program, an Adopt a Road program was initiated this season for:
Estero Parkway (led by volunteers in the Cascades)
Via Coconut Point (led by volunteers in Genova and including participants from Rapallo, Mirasol, Colonial Oaks, Shadow Wood, Wildcat Run, and Lighthouse Bay)
Williams Road (with volunteers from Genova and Pelican Sound).
So many residents in greater Estero share a vision of enhancing our location's environmental health and beauty. Those involved in the current cleanup programs are role models for others with that vision, help to increase public awareness, and make a remarkable difference in our community.
To help increase your knowledge of happenings in greater Estero and the region and how you can participate, we encourage everyone to sign up for highly informative emails from: