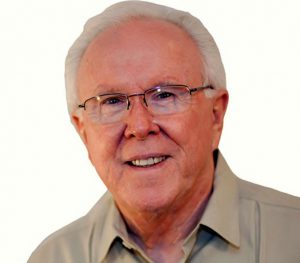 The ECCL Board of Directors is pleased to announce the appointment of Jim Gilmartin as the ECCL president. Jim and his wife Bettie have lived in Lighthouse Bay at the Brooks since 2004.
In August 2019 with the untimely and unfortunate passing of recently appointed ECCL president, Bob King, Jim was approached by the ECCL Board and offered the position of President. He was appointed ECCL President by a unanimous vote of the Board effective August 23, 2019.
In January 2018 Jim was elected to serve as Chairman of the ECCL's Economic Outreach Council later renamed the Education Outreach Council. Jim generated volunteers and other resources for Junior Achievement and other community education-related programs. He also pursued, and in early 2018 established, the ECCL Advocacy Foundation a fund of the Southwest Florida Community Foundation in early 2019. Jim was appointed ECCL's Chief Communication Officer in July 2019.
Prior to selling his marketing firm in 2016, Jim was the founding president of the Chicago-based communications company Coming of Age. Established in 1991, the full service traditional and digital marketing firm specialized in helping clients to increase market share and profit in Baby Boomer and older customer markets.
In 1985, Jim served as Chief Operating Officer and then President and CEO of two subsidiary healthcare companies of the Chicago-based Lutheran General Health Care System with a total budget of $150 million, Jim also served as Senior Vice President of the Lutheran General Health Care Services Corporation responsible for system's programs and services for the aging populations.
In 1980, Jim was appointed Vice President of Finance and Administration for the Chicago-based Illinois College of Podiatric Medicine.
In New York City, after 17 years of service, Jim retired from the New York City Police Department in 1978 as a Lieutenant awaiting promotion to Captain to serve as the Director of Management Planning for the NY City Health and Hospitals Corporation the City's 18 public hospital system. 
From 1956 to 1960, Jim served in the United States Navy. He earned his B.S. and Master of Public Administration degree from the City University of New York.
239-337-9900
ecclcco@gmail.com