Village Council Actions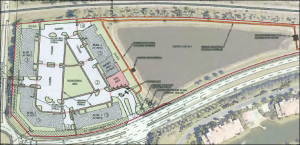 Edera at Coconut Point
Village Council heard plans for Edera at Coconut Point, a 180-unit apartment complex along Via Coconut Point south of Williams Road, during a first reading of the proposed ordinance. Council sent this proposal back to the Planning & Zoning Board for review due to changes in the application, which includes four buildings at a height of 45 feet. Edera will be on the agenda for the July 18 PZB meeting before returning to Council for a second reading and public hearing.
Planning & Zoning Board Actions
Milestone Learning Center
The board voted to recommend approval of a request by Milestone Learning Center to expand its daycare at the Breckenridge Professional Center (Breckenridge Drive and U.S. 41) into a building previously zoned for office space. The daycare — which was first approved by Lee County — currently serves 80 children, ages eight weeks to 5 years old. Milestone plans to renovate space in an adjacent building to add six classrooms, enabling the center to accommodate an additional 60 children. Maximum enrollment is 156.
Local Roots Farmers Market
The board voted to recommend approval of Local Roots LLC's request to again operate a farmer's market in the parking lot at Coconut Point Mall on Thursdays, starting Oct. 5, 2017, and running through April 28, 2018. This annual farmer's market offers farm fresh produce, handcrafted items and other locally produced goods. It will be located in the parking area between Plaza de Lago and Mediterranean Drive, across from Panera Bread. Hours will be 9 a.m. to 1 p.m.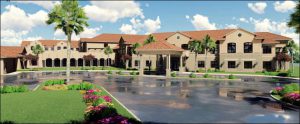 Phoenix at Estero
Phoenix at Estero is a planned senior living facility at the northeast corner of Corkscrew Road and Three Oaks Parkway, adjacent to the Estero Medical Center in Plaza del Sol. Echelon Senior Living Group presented its request for a zoning variance to increase the height of its building from 35 to 45 feet, which would allow for three stories in the back portion of the facility. The building plan includes 124 dwelling units: 100 assisted living and 24 memory care. Phoenix at Estero will feature one and two-bedroom rental units, internal courtyards, porches and outdoor dining. This was an informational meeting only; no board action was taken.
Pelican Landing Timeshare
A second public information meeting was held for two new buildings proposed within Hyatt Coconut Plantation to include 24 timeshare units. This development is outside of the Village of Estero boundaries, but the public hearing in Estero was required by Lee County as part of its zoning approval process. Hyatt Residence Club/Coconut Plantation currently has three buildings with 24 units and amenities including a clubhouse, restaurant, pools, lazy river, basketball and tennis courts. The proposed timeshare units would be three stories, built over a ground-floor parking garage. This property is accessed by Coconut Road and Coconut Point Resort Drive. Board members and members of the public expressed concern over cumulative traffic impacts of developments in this area.
Design Review Board Actions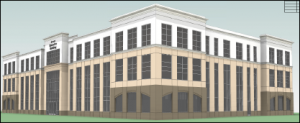 Arcos Executive Center
A three-story office building is being proposed in the Plaza del Sol development located at the northeast corner of Corkscrew Road and Three Oaks Parkway. Arcos Executive Center is requesting an increase in square footage from 37,200 to 70,000 square feet to accommodate larger businesses along with some retail use. The applicant also wants to add height from two stories to three stories due to limited visibility from oak tree canopies. These large oaks will be preserved if the Village approves an increased building setback from 45 feet to 120 feet. The proposal includes relocation of the Lee County Utilities sewer lift station from the corner to a less conspicuous location on the site.This was a public information meeting; no action was taken and the applicant was asked to return with updated plans to reflect board comments regarding issues such as dumpster placement, pedestrian connectivity and varied roof lines. A link to the developer's presentation may be viewed here.
Dunkin Donuts
The board approved an updated design for the Dunkin Donuts/Valvoline monument sign in Grand Oaks Shoppes at Ben Hill Griffin Parkway north of Corkscrew Road. This design adds architectural details, and the board stipulated it must be lighted from the soffit (not backlit).
Comprehensive Plan
Early this month, the Village's consultant presented the final piece of the Comprehensive Plan for public discussion:  Intergovernmental Coordination, Capital Improvements and Public School Facilities. LaRue & Associates solicited public comment on how the Village should work with Lee County and the School District to coordinate recreational facilities planning, as well as transportation initiatives like bike/pedestrian pathways. Public input also was encouraged on capital improvement priorities, including land acquisition for conservation, recreation and river access. During the discussion on schools, suggestions included co-locating Village and School District recreational facilities for community use.
The consultant's presentation may be viewed on the Village of Estero website. A first draft of the full Village of Estero Comprehensive Plan is expected to be presented during the two public PZB meetings in July.