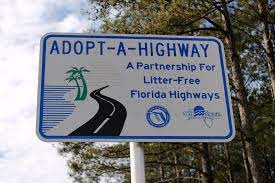 The ECCL support of the "Adopt a Highway" initiative headed by Julie Yellig and her team of volunteers started the cleanup of Hwy 41 over the weekend (October 24).  The ECCL is working with the Florida Department of Transportation (FDOT) to help clean an approximate four-mile section of Tamiami Trail. This effort will involve teams of volunteers helping to clean both sides of the highway, between the Vines entrance (Breckenridge Road) north of Walmart and south to Coconut Road.
These monthly events will continue at least through April to help enhance the overall appearance of our community.
This weekend, the volunteers included people from Rapallo, Marsh Landing, Colonial Oaks, Copperleaf, Lake Michigan Credit Union, Pelican Sound, and a student from FGCU. The volunteers picked up a total of 380 pounds of litter! We are sure our residents in Estero will join us in thanking these volunteers for their time and effort.
The ECCL would also like to thank "Sunmart Food and Fuel" near 41 and Corkscrew Road. Their welcomed donation of water and ice for our volunteers is sincerely appreciated.
If you would like more information on how you can help, please contact Julie Yellig via email at ECCLHwy41@gmail.com for more details. She will provide you with the dates and tell you more about the project.