In 2012 Richard Hunt, the ECCL's real estate market research consultant, found that Estero had a shortage of both rental and senior housing. During the housing boom of the early 2000's Estero rental-only housing was converted to condominiums.
Almost immediately after issuance of Hunt's report, developers with plans for such projects filed applications for these kinds of projects with Lee County, which reviewed and approved all rezoning matters in Estero until the Village was functioning in March 2015.
This Estero Development Report focuses on Estero's rental housing market and next month's edition will discuss our senior housing market. Each report will include both a summary section and detailed information on each project, including those already completed, those under construction and those in the approval pipeline.
The Present Estero Rental Housing Situation
Completed or Under Construction: Excluding specialized student housing projects, there are currently four rental housing projects containing 879 housing units already completed or under construction in, or just outside, Estero's border. Three of the four projects, containing 676 units, are well along and should be completed by year end.
Seeking Village Approval: Two major rental housing projects, Via Coconut Urban Place and Estero Crossing, containing 752 units, are presently seeking Village approval so they can add to the growing inventory of rental housing in the community. In addition, 13th Floor Apartments is meeting with neighboring communities to explore the development of another 200 rental units. If all of these developments are approved by the Village, an additional 952 rental housing units would be add to those already approved and/or under construction.
Student Housing Projects: For several years Estero has been home to one of two off-campus student housing developments, called Coastal Village, serving FGCU students. A 168-unit addition to this development was approved by the County several years ago and construction began in 2015 and is nearing completion. Recently an application, formally called "The Reef", has been filed with the Village to add another 60 units on adjacent property on the northeast corner of Estero Parkway and Three Oaks Parkway. If approved, the number of new student apartments would total 228.
The grand total of new rental housing units of all types that could be built in Estero if all these projects are approved without change would be 2,059 units.
Individual Development Status
Apartment developments are summarized in the following table and described below.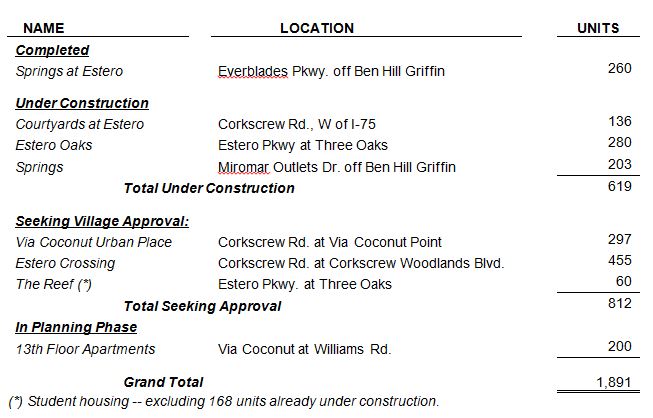 COMPLETED
Springs at Estero opened in October 2015. It was the first apartment complex to open in recent years and already has reached 95% occupancy. Its 260 townhouse-style apartments occupy 18 acres at the entrance to Germain Arena.  Included are a clubhouse, pool, fitness center and dog park.  It offers studio, 1- , 2- and 3-bedroom units with square footage of 525 to 1,430 and pricing from $600 for a studio to $3,000 for some 3-bedroom units. Although located near FGCU, it is not aimed at the student market.  Developed by a Wisconsin-based firm, Continental Properties, it was approved by Lee County prior to Estero's incorporation.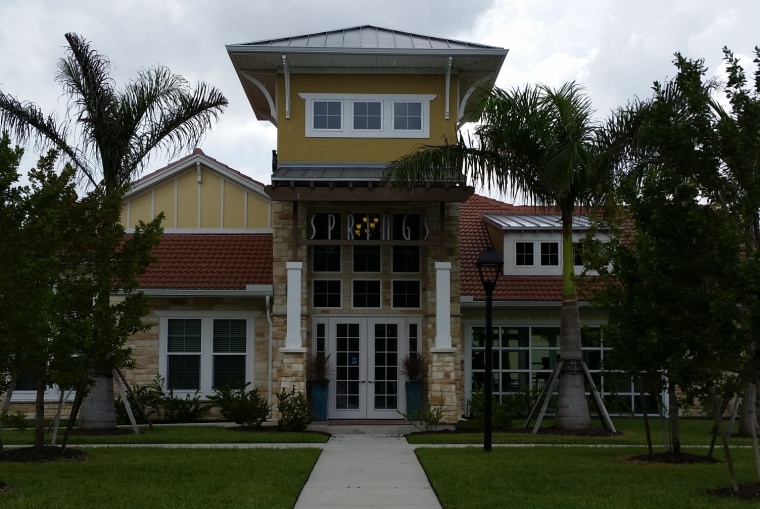 UNDER CONSTUCTION
Courtyards at Estero, being built on nine acres, includes 136 luxury apartments in 17 two-story buildings, along with a clubhouse, swimming pool, fitness center and dog park.  This Focus Development Group project, located on the north side of Corkscrew west of I-75, was also approved by Lee County prior to Estero's incorporation.  It includes 1- , 2- and 3-bedroom units with square footage of 850 to 1,375 and pricing from $1,260 to $1,990. Currently, over 80% of the apartments are occupied or under lease. The development is expected to be completed by September.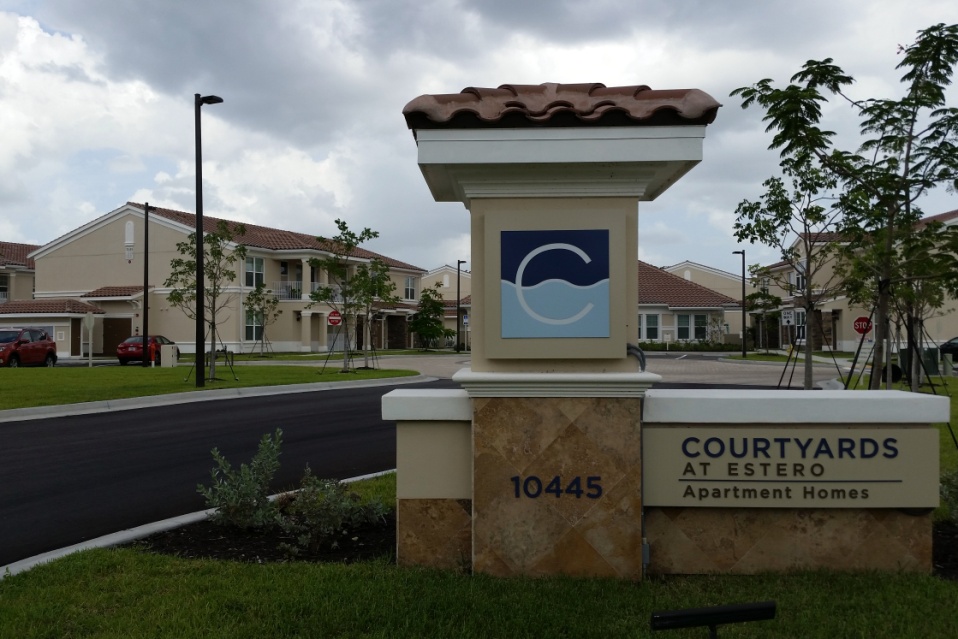 Estero Oaks is a 36-acre mixed-use development located at the northwest corner of Estero Parkway and Three Oaks.  Because it is outside the Estero border, it also was approved by Lee County. It is being developed by Oakbrook Properties and Royal Palm Homes.  Included are 280 units, a clubhouse, swimming pool, fitness center and dog park.  The development features 1- , 2- and 3-bedroom apartments from 800 to 1,400 square feet.  Apartments are being positioned around a four-acre lake with public spaces and landscaped boardwalks/sidewalks for walking and biking. About 20% of the units are currently leased with first occupancy planned for this August; all units are expected to be move-in ready by the end of December. A 7-Eleven recently opened on Estero Parkway; other anticipated commercial uses include restaurants, small retail businesses and offices.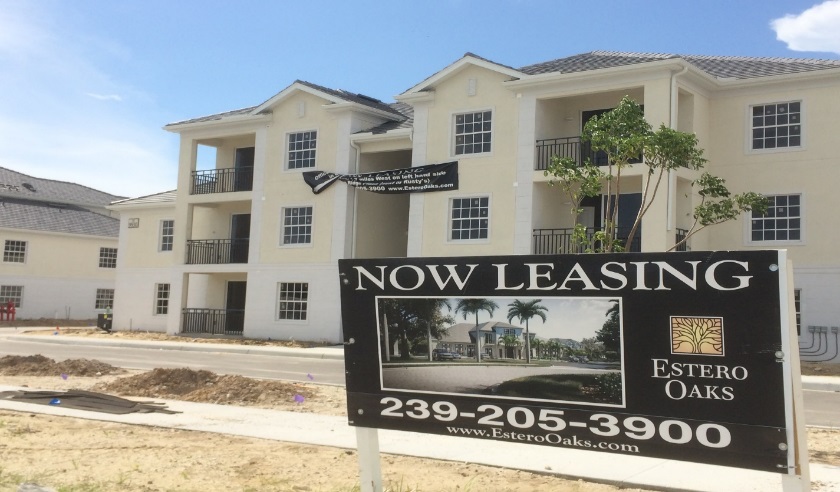 Springs Apartments, formerly Springs at Gulf Coast, is a proposed 203-unit multi-family apartment complex off Ben Hill Griffin, located at the northwest corner of Miromar Outlets Drive. and Highland Oaks Drive, which is under construction. The development will include 8 two-story buildings consistent with Mediterranean architecture.  While the land is being cleared, representatives of the developer, Continental 376 Fund LLC, continue to meet with the Village's Planning and Zoning and Design Review boards.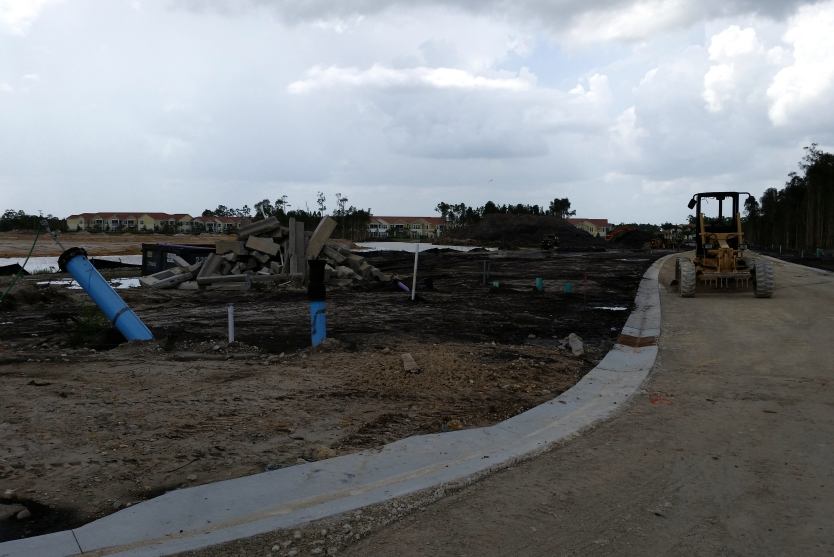 SEEKING VILLAGE APPROVAL
Via Coconut Urban Place is proposed 18-acre, mixed use development that would include 297 apartments along with 30,000 square feet of commercial use.  Representatives of the developer, Focus Development Group of Boca Raton, continue to meet with the Planning and Zoning Board.  Among enhancements being discussed are large open green spaces with landscaping, gathering spaces with outdoor cafés and an east-west connector road to the Estero Community Park. The site plan below the development would be built on the west side of Via Coconut Point and north of Williams Road.

Estero Crossing is a proposed 43-acre mixed used development on the south side of Corkscrew Road, located 1,000 feet west of the I-75 interchange.  The proposal by Stock Development of Naples calls for 455 residential units and 60,000 square feet of commercial use.  The proposal brought before the Village Council in March would have required an amendment to the Village's Comprehensive Plan.  More than 200 residents appeared at the meeting to oppose the development and present an 800-signature petition protesting the proposal.  The Council voted to delay action on the project. There have not been any meetings with the Council or Planning boards since March.
The Reef is a proposed addition to an already existing 168-unit student housing complex at the corner of Three Oaks and Estero parkways.  This would add 60 Mediterranean-style apartments on five acres next to the existing site.  Future meetings with the Design Review Board are expected.
IN PLANNING PHASE
13th Floor Apartments is being proposed by Oakbrook Properties on a seven-acre property at the southeast corner of the traffic circle on Via Coconut at Williams Road.  Plans call for 200 apartment units. Although the developer's representatives met with a number of Rapallo residents to outline plans for the development, the details remain sketchy at this time.