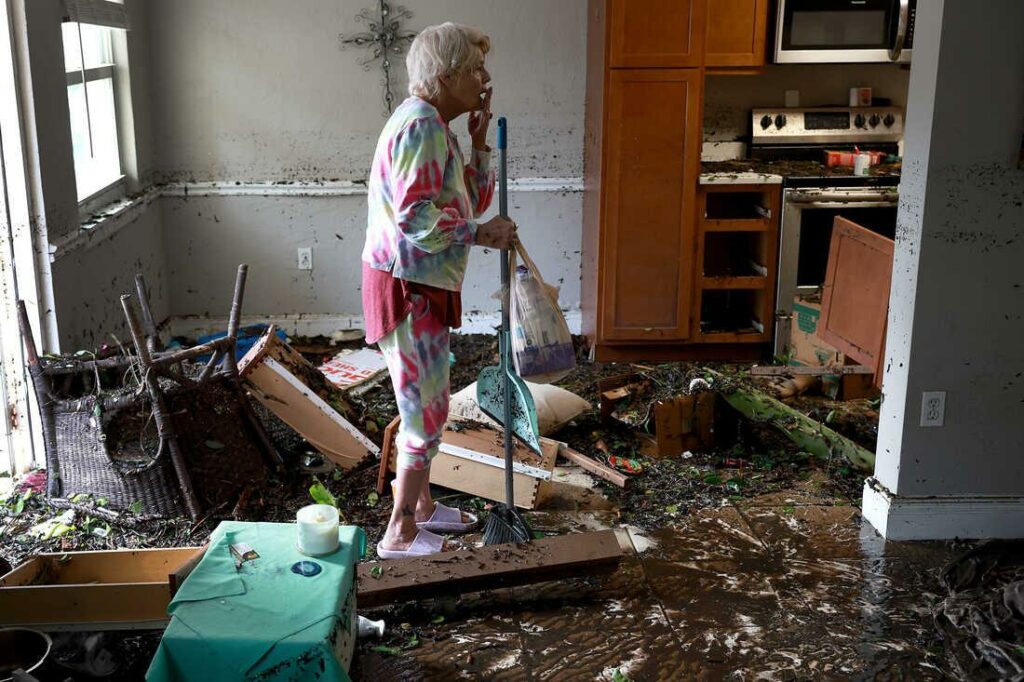 Information You Should Know When Looking to Repair Your Home After Hurricane Ian
The ECCL has been working hard to assist families suffering hardship and heartbreak following hurricane Ian. The ECCL, which relies on donations to continue its work, has donated $5,000 of its funds to assist those in need and has supported mayor Katy Errington by getting the word out to Estero residents together with the Estero Forever Foundation and the Greater Estero Chamber of Commerce. The initial wave of contributions totaled $30,000, and we hope a second communication will add more.
In addition to monetary support, we appreciate that many are struggling to know what might or might not be possible when knowing to whom they can turn for help, financial or otherwise, from FEMA and other organizations. To assist those who need answers to these questions, the ECCL has compiled the latest information below. This will be updated when new information becomes available.
Here are the answers to some "Frequently Asked Questions" (FAQs):
Can I get my roof protected with a tarp?
Residents impacted by Hurricane Ian can sign up at BlueRoof.us or call toll-free at 1-888-ROOF-BLU (1-888-766-3258) for more information. The call center will be open from 8 a.m. to 8 p.m. ET. Homes eligible for Operation Blue Roof include primary residences or a permanently occupied rental property with less than 50% structural damages, excluding vacation rental properties.
For the roof to qualify, you must remove all storm debris, and flat roofs, metal, clay, slate, or asbestos tile do not qualify. PLEASE NOTE – all applications need to be with Blue Roof by November 1st.
Will FEMA help me with financial assistance?
You can find out if you may be eligible for a FEMA award by Calling 800-621-3362 (800-462-7585 TTY) or by applying online at DisasterAssistance.gov. FEMA assistance does not, unfortunately, make you whole again, but it can help you to recover.

FEMA disaster assistance covers basic needs only and will not usually compensate you for your entire loss. If your total damage costs amount to 50% of your home's total value, you may be required to demolish your home and then you will have to consider rebuilding – but please find out more from FEMA directly first.
Can I file for loss of Income following hurricane Ian?
Disaster Unemployment Assistance is available to eligible survivors. Floridians can file a claim for loss of income caused by Hurricane Ian by going to Disaster Unemployment Assistance – FloridaJobs.org and select "Apply for Hurricane Ian DUA," visiting a local CareerSource Career Center, or calling 800-385-3920.
I want to start rebuilding, but I cannot do so with the high deductible incurred by my insurance company – what can I do?
It is the case with many, but not all insurance companies that cover hurricane damage, that a 2% deductible is required. Governor Ron DeSantis announced that Florida Housing Finance Corporation (Florida Housing) is awarding $5 million to local housing partners to help Floridians impacted by Hurricane Ian pay their home insurance deductibles in the six hardest hit counties.
Funding assistance is available to individuals, families, and seniors living in Charlotte, Collier, DeSoto, Hardee, Lee, and Sarasota counties who apply and qualify through Florida Housing's local housing partners. Homeowners are encouraged to contact their local SHIP office directly for more information: Local Government Information (floridahousing.org). Here is the link https://www.floridahousing.org/programs/special-programs/ship—state-housing-initiatives-partnership-program/local-government-information
Can a recreational vehicle (RV), motorhome, or camper be parked on private property and utilized as temporary housing?
A mobile home, travel trailer, or park-trailer may be parked on a single-family lot and utilized as temporary housing during the rehabilitation of the original residence or construction of the new residence. The maximum duration of use is until March 22, 2024, which is 540 days after the disaster declaration.
The temporary housing unit must be removed from the property, or cease utilizing as a residential temporary housing unit, within ten days after the certificate of occupancy of the home is issued. PLEASE NOTE: A temporary permit will be required to be approved through Lee County Department of Community Development.
Water and sanitary facilities must be provided, and the temporary mobile home, travel trailer, or park-trailer must comply with floodplain management regulations.
Where can free food and water be picked up in the Estero area?

Estero, FL, USA (Lee County)
Estero Bay Olive Oil & Tea, 23191 Fashion Dr, Estero, FL, 33928, USA
Estero High School, 21900 River Ranch Rd, Estero, FL, 33928, US
Estero Fire Rescue Station 2 The Coconut Point Station, 8005 Sweetwater Ranch Blvd, Estero, FL, 33928, USA
Estero Fire Rescue Station 3 Three Oaks Station, 21510 Three Oaks Pkwy, Estero, FL, 33928,
Estero Bay Chevrolet, 10640 Chevrolet Way, Estero, FL, 33928, USA
How can I get a permit to build or repair post-Hurricane Ian?
Department of Community Development's normal permitting business hours are being expanded to assist its customers. The hours of operation will be Monday-Friday from 7 a.m. to 5 p.m., and Saturdays from 8 a.m. to noon. Due to both public and private damage generated by Hurricane Ian, Unincorporated Lee County is temporarily altering routine construction permitting and inspections for rebuilding.
For those in Estero Village:

Building Repairs not requiring a permit:
Removal of debris from, on, or inside a structure
Repair/replacement of soffits and gutters
Screen replacement (structural components of the lanai require a permit). If the lanai includes a pool, a barrier such as a temporary fence should be installed to prevent outside access for safety purposes.
Replacement of broken glass within existing framing for windows and doors.
Entire windows or door frames require a permit.
Structural shoring and bracing

Building Repairs requiring a permit:
Roof repairs
Drywall replacement over 100 sq. ft.
All structural components
Fence replacement (except previously permitted fences destroyed due to storm may be reinstalled like-for-like in the exact same location)
Lanai, door, window (except as detailed above)
Where can I find temporary housing?
A key place to start for temporary housing is registering for FEMA individual assistance at www.DisasterAssistance.gov. It can provide temporary rental assistance. Other federal programs will be made available.
Lee County will work with the federal government as well as state and local partners to support displaced residents. Lee County departmental staff, such as Human & Veteran Services, are already actively making plans to help residents in shelters transition to housing.
Here are some other helpful links to consider using:
Individuals that have been displaced from their homes are encouraged to visit www.FloridaHousingSearch.org. This free, statewide search platform is constantly updated to ensure all listings are accurate and can help quickly locate an affordable rental property. If you do not have Internet access, you may call the toll-free number for assistance: 1-877-428-8844.
Suppose your home sustained damage because of the storm. In that case, your local State Housing Initiatives Partnership (SHIP) program office might have recovery assistance available to help with temporary relocation, rental assistance, debris removal, and home repairs. Please contact your local SHIP office directly for more information: Local Government Information (floridahousing.org)
Residents who used Florida Housing's Homeownership Loan Program (HLP) may be eligible for Disaster Relief Assistance through US Bank. Please visit their website for more information: Disaster relief assistance | Here for you | US Bank (usbank.com)
Disaster relief options are offered to homeowners in declared major disaster areas. However, even homeowners outside those areas may have options if their home incurred a disaster-related loss that impacts their ability to make a mortgage payment.
Freddie Mac, Fannie Mae, and Federal Housing Administration loans (FHA) back most US mortgages – and each has some program to help homeowners struggling to pay their monthly mortgage payment after a disaster. Foreclosure and other legal proceedings are suspended while homeowners are on a forbearance plan. Click here to learn more.
If you own a private business that has been impacted, please visit www.FloridaDisaster.biz/.