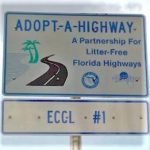 Help Us Keep Estero Looking Beautiful
The ECCL (as the adopting organization) is working with the Florida Department of Transportation (FDOT) to recruit and coordinate groups of volunteers to help clean an approximate four-mile section of Tamiami Trail.
Including both sides of the highway, the section is located between the Vines entrance (Breckenridge Road) north of Walmart and south to Coconut Road.
If you would like to see your business, school, or community associated with this important voluntary work to help keep Estero looking pristine for both those who live here and for our visitors, please get in touch with Julie Yellig at the following email address: ECCLHwy41@gmail.com
Ensuring that our roads are free of litter will benefit the community in many ways:
It will help to reduce the inclination for others to discard litter when the roadways are clean
It will improve the area's overall appeal:

Encourages a "feel good" factor
Encourages people to want to live in our area
Indirectly improves home values
Our first event will be this month, followed by one Saturday morning each month through April. These will be small planned groups of ten or so volunteers per event. For further information on dates, please contact ECCLHwy41@gmail.com
Thank you for your willingness to help keep Estero looking beautiful.
Florida Department of Transportation
Safety, Innovation, Mobility, Attract, Retain & Train
ADOPT A HIGHWAY PROGRAM
The Pledge
Many miles of highway are adopted statewide by various organizations, allowing civic-minded people to make a difference in their communities. Volunteers (those in neighborhoods, businesses, churches, high schools) are encouraged to participate at least one Saturday morning during the season in our efforts to keep Estero litter-free. Such efforts will ease a considerable amount of FDOT work, enabling crews to devote more time to other road maintenance and special highway projects.
Adopting Organizations And Their Volunteers Agree To:
"Adopt" a two-mile section of a State Highway
Dedicate two years to the program
Follow specified DOT safety regulations
Remove litter a minimum of four times each year
FDOT Agrees to:
Assist with safety meetings
Provide safety vests and litter bags
Pick up litter at specified locations