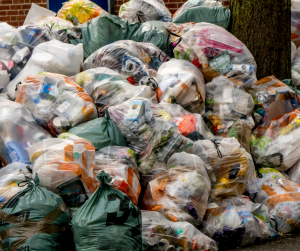 As you may be aware, the ECCL has been collaborating with the Florida Department of Transportation (FDOT) since October 2020 to help clean Hwy 41, between the Vines entrance (Breckenridge Road) north of Walmart and south to Coconut Road. During the weekend of December 13th, the team of volunteers collected an incredible 780 pounds of bagged litter. This accomplishment totaled 5,340 pounds of litter for the 2021 calendar year and 6,360 pounds (over three tons) since the beginning of the program in October 2020.
The December volunteers included residents from Copperleaf, Rapallo, Stoneybrook, Wildcat Run, Bella Terra, Meadows of Estero, and Pelican Sound.
The ECCL wishes to express its sincere thanks to Marathon/Dos Amigos Authentic Mexican Grill, who have continued to provide ice and water to our volunteers to help them clean up US 41 since the program's start.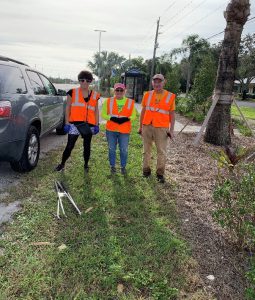 Residents should also appreciate Estero River Outfitters and Koreshan State Park volunteers' efforts. They keep the concrete-enclosed pedestrian walkways over the Estero River on Hwy 41 free of trapped vegetative debris that narrows the walkway and obstructs the drainage holes in the barriers. In addition, two of the ECCL's volunteers from the Cascades are now leading a group of volunteers in Estero's Adopt a Road Initiative for Estero Parkway. They had their first event this month.
ECCL President Jim Gilmartin said, "This is a great achievement. On behalf of the Board of Directors and Executive Management Team, you have our sincere gratitude for what you have accomplished since the project commenced in October 2020. Congratulations to everyone connected with the project. It is encouraging to see that this initiative with the support of the Estero Village Council will now be extended to other roads in our area in the coming months."
It is impressive that so many residents are willing to give up their time to ensure the Greater Estero area remains a beautiful place.
The ECCL also posts these details on its Facebook page. If you would like to write a personalized message of thanks to these committed volunteers, please go to your Facebook page, type in "Estero Council of Community Leaders," and then "share." You can look at the posting of this article and other topics, but if you press "like" and write a short message, the volunteers would be most appreciative.