Volunteers Continue to Keep Hwy 41 in Estero Looking Pristine!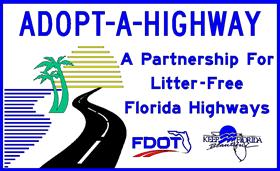 The ECCL will, on February 1st, officially become "Engage Estero." Since October 2020, we have collaborated with the Florida Department of Transportation's Adopt-A-Highway Program to help clean Hwy 41 between the Vines entrance (Breckenridge Road) north of Walmart and south of Coconut Road.
The Program is now in its 3rd season, with well over 6 tons of rubbish and other debris collected over that period. This month a team of local volunteers collected 860 pounds of bagged litter and debris from Hwy 41. That amounts to a total of 3,380 pounds since November.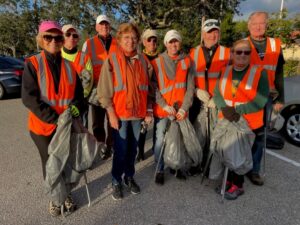 This month's participants were Copperleaf, Riverwoods Plantation, Grandezza, Belle Lago, Bella Terra, Meadows of Estero, Rapallo, Breckenridge, and Pelican Sound.
The ECCL thanks Marathon/Dos Amigos Authentic Mexican Grill for their continued supply of ice and water for those who volunteer to help during each event.
In addition, the ECCL also thanks all those who regularly pick up litter in our community.
If you are interested in volunteering, don't hesitate to get in touch with Julie Yellig at ECCLHwy41@gmail.com.