An Amazing Achievement by Estero Students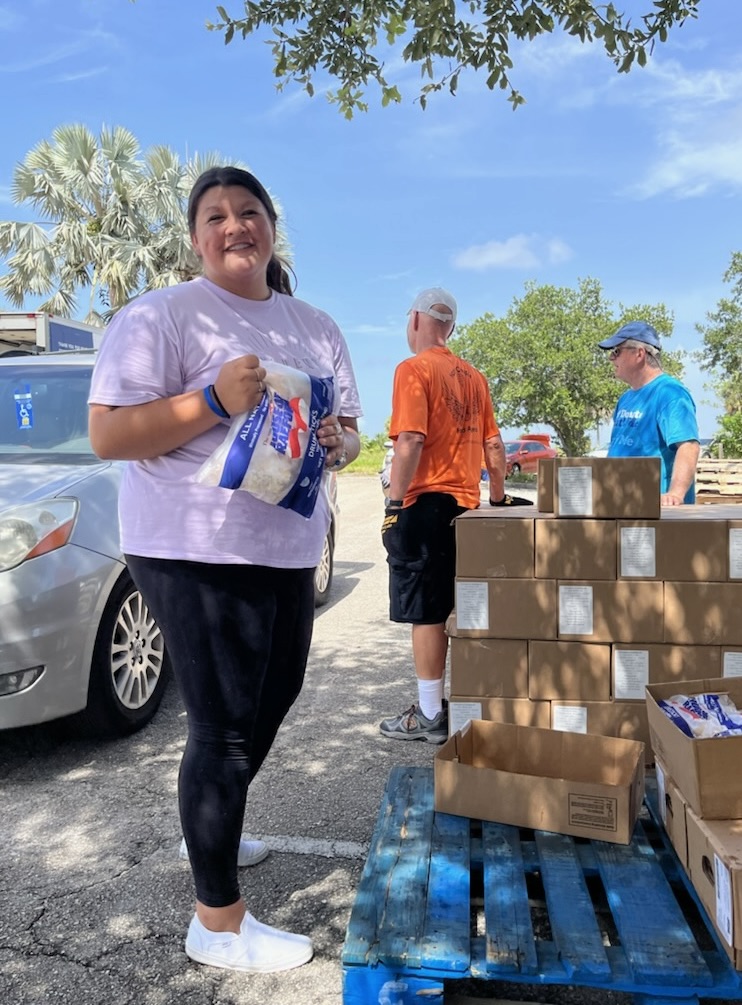 "What's important is being able to give back," says Jeffrey Stevens, a junior at Estero High School.
LEAD Estero is a non-profit that provides scholarships and leadership opportunities for Estero High School students. What's different is students formed this non-profit to help students.
Brothers Jeffrey and Matthew Stevens started the organization as an entrepreneurial effort in the spring of 2022. Then five high school friends quickly joined to help. "I always strongly felt that you should do service work in your community," comments senior Sydney Ramsey, Co-President of LEAD Estero. She is pictured left volunteering at the Harry Chapin Food Bank.
"I understand the importance of education," Sydney continues, "And that if you are not well-informed, there are not many opportunities for you in life."  Jeffrey Stevens agrees, "Some high school kids need scholarships to have a bright future. And that's important to me."
Initially, LEAD Estero had a goal of raising $20,000. But after the initial success, they increased their goal to $30,000 and are now considering a higher target. They want to fund four $5000 scholarships and one $10,000 scholarship and are considering a $25,000 endowment at FGCU. All scholarships would be for Estero High School students. They have received approval as a 501c3 non-profit designation.
Most of the $17,000 they have raised to date came from a Golf Scramble fundraising event held at Stoneybrook Golf Club on August 7th, 2022. The event succeeded due to the efforts of 15 students and four adults. There were 100 golfers, several donations, and a celebration at Duffey's restaurant following the golf.
Sydney Ramsey and Bryce Krohnfeldt, both seniors at Estero High School, are Co-Presidents of the organization. Peter Waszkowski is Vice President and Nadia Villanueva the Secretary, both seniors. Kyra Ritter, a junior, is the Historian and Jeffrey Stevens is the Treasurer and on the Board of Directors. Matthew Stevens, a first-year student, led the fundraising efforts for the Golf Scramble.
LEAD Estero, as a name, represents Leadership, Enrichment, And Development. Since forming, they have volunteered at the HOPEN pickleball tournament, Harry Chapin Food Bank, and are working with the Zach Martin Memorial Foundation. Their goal includes partnering with other groups in the community to enrich the educational experience of all.
The Zach Martin founder, Laurie Giordano, is working to create awareness of heat exhaustion on the athletic fields used for practice. Her son, Zach Martin, a high school football player, passed away from heat exhaustion. Currently, coaches are using the internet for temperature information. LEAD Estero is working with the Foundation to secure a thermometer to be placed on the field to provide accurate local conditions.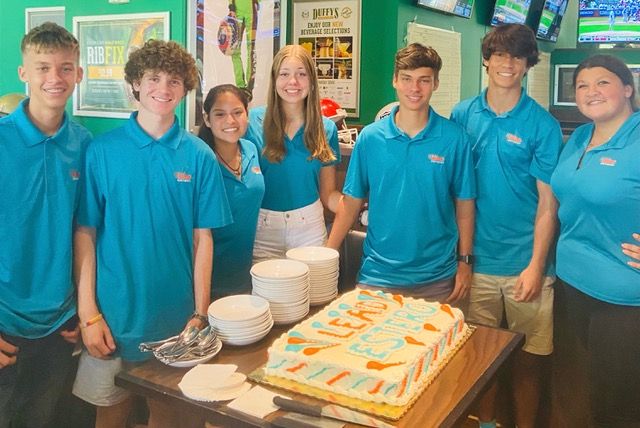 LEAD Estero members Left to Right: Matthew Stevens, Bryce Krohnfeldt,
Nadia Villanueva, Kyra Ritter, Jeffrey Stevens, Peter Waszkowski, and Sydney Ramsey.
Both Ramsey and Krohnfeldt agree that the Co-President organization has worked exceptionally well. Krohnfeldt states, "We agree on lots of stuff and have not had any problems. We're a great team, and it makes it easy for us to split the responsibilities since we are both busy with other school events and organizations."  Ramsey adds, "Bryce (Krohnfeldt) is a good tech guy, and I'm not so good at tech. But that's helped me in my personal growth. We work well together and agree on how LEAD Estero should go forward in the future."
They are planning more events, including a "Breaking Par for LEAD Estero" Golf Tournament and Gala Dinner scheduled for April 1st and 2nd, 2023, at Grandezza.
Other volunteering activities are being planned to give back to the community.
These Estero High School students are making a difference. And they have bigger future personal plans. Krohnfeldt hopes to attend MIT to study Aerospace Engineering and eventually become an astronaut. Ramsey plans to study criminal law at either Florida State University or the University of Florida.
By Mike Wasson, Co-Chair, Education Council
The ECCL applauds the efforts of these very well-intentioned high school students. They are gaining valuable learning experiences and are truly giving back to their fellow students and the greater Estero community. The whole of Estero should feel immensely proud of their efforts: Many congratulations!