Commercial permits in December 2017 totaled $1,237,003, one of the lowest monthly figures this year.
The $114 million permit value for 2017, as shown below, marks the second-best year for commercial investment in the last ten years, largely due the $82 million investment by Lee Health in its Coconut Point medical village. (The 2014 total was greater as it included nearly $100 million for the Hertz headquarters.)   Other significant investments in 2017 included nearly $8 million in renovations within Coconut Point and Miromar malls, over $5 million for the Estero Lock-Up storage facility and over $3 million for the United Methodist Church.
The table below compares 2017 totals with those of the previous 17 years.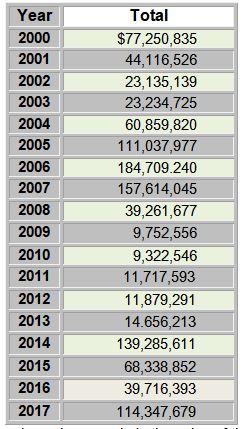 Note: The building values above exclude the value of the underlying land.
Sources:
For 2016 and 2017, see Village of Estero Community Development: see https://estero-fl.gov/monthly-building-reportrs/
For prior years, see Lee County Permit Reports for the "Village of Estero": http://www.leegov.com/dcd/reports