The ECCL is pleased to report another extraordinary effort from volunteers helping clear the rubbish along an Estero section of Hwy 41 this weekend. That brings this season's total – starting in October 2021 – to 3,240 pounds, and our total since October 2020 to 8,280 pounds, which is over 4 tons!!!!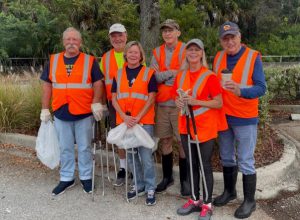 The volunteers over the weekend were from Rapallo, Copperleaf, Cascades, Pelican Sound, Wildcat Run, Bella Terra, Riverwoods Plantation, Meadows of Estero, and RMS Residential Maintenance Solutions. We are indebted to their enthusiasm and willingness to help keep the greater Estero area looking as beautiful as it can be.
Thanks again to Marathon/Dos Amigos Authentic Mexican Grill, who have continued to provide ice and water to our volunteers to help clean up US 41 since the program's start.
The ECCL would also like to thank the volunteers from Cascades and Genova involved in Estero's Adopt a Road Initiative for Estero Parkway and Via Coconut Point.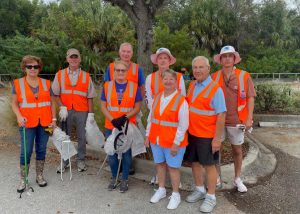 ECCL President Jim Gilmartin said, "The ECCL is proud of the work that Julie Yellig has done in encouraging and managing this significant initiative in the Greater Estero area. Of course, it wouldn't be possible without the support of so many volunteers over the last two years. We are grateful for their efforts and wish the program continued success making Estero a charming and appealing place to live."
The ECCL also posts these details on its Facebook page. If you would like to write a personalized message of thanks to these committed volunteers, please go to your Facebook page, type in "Estero Council of Community Leaders," and then "share." You can look at the posting of this article and other topics, but if you press "like" and write a short message, the volunteers would be most appreciative.