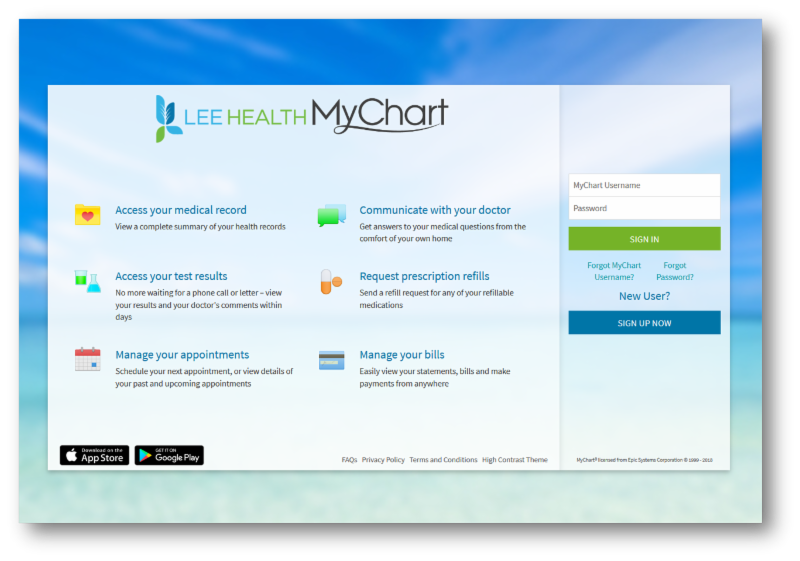 Technology keeps us connected, and it can also streamline and enhance your health care journey at Lee Health Coconut Point. New digital tools – which all integrate with your personal device – allow you to organize and track your health records, schedule appointments, refill prescriptions, and much more.
Lee Health offers you a secure, online way to access your medical records. Anywhere, anytime, you can count on Lee Health's MyChart®. Our personalized, convenient, online services make it easy for you to:

Schedule your own appointment. For example, patients can schedule their own mammogram screening and laboratory draw appointments
View your health summary, medications, and most test results
Receive important health reminders
Request prescription renewals
Manage healthcare for your loved ones
Send secure messages to your physician's office
Pay your medical bills, and more
In addition:
A cool tool called a Wayfinder will help you find your way around Lee Health Coconut Point and even track your movements. There is even a real-time map with plenty of visual landmark references. Have you wandered off your route? No worries! A notification will get you back on track!
Ready to leave but not sure where you parked? The "My Car Saver" feature saves your location and guides you when you're ready to leave.
Time to check-in! Find the nearest patient kiosk and make updates, arrange payments, schedule future appointments, or download an app to your phone.
Don't worry about waiting around for prescriptions or wondering when they are going to be ready. Your phone will let you know—and in the meantime, stroll into our café, take a class, or relax outside in our healing garden.
All that and so much more. The goal at Lee Health Coconut Point is to make things as easy as possible for guests. LHCP welcomes you to enjoy all the progressive, innovative technology to meet this community's current and future needs!
Got a smart phone? Use the free Lee Health App! Here's how:
Search keyword "lee health" in the iTunes App store or Android's Google Play.
Download and install the free Lee Health Mobile App.
Click on the MyChart button in the app and log into your account with your Lee Health MyChart username and password.