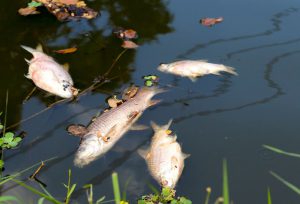 Many do not know that our deteriorating water quality is impacting the health of our economy and the residents of Estero and Southwest Florida. The ECCL has a significant role in bridging this education gap. We collaborate with other local groups such as the Calusa Waterkeepers to inform civic leaders, business owners, homeowner associations, and residents about the roles each of us can play in preventing pollution and restoring waterways and habitats.
Cyanobacteria (blue-green bacteria) proliferate in the nutrient-rich fresh waters of Florida. Increased contamination of our local waterways has been identified as a significant contributor to increased red-tide blooms and green algae. The adverse impacts on the environment and the local economy are well documented. For these reasons, our efforts also include public outreach and advocacy focused on educating our community on the sources of pollution, their impact on the economy, and what prevention and remediation steps are required.
Although not very glamorous, one of the most critical and impactful projects for which the ECCL advocates is the Village of Estero "Septic to Sewer" project.
Florida Gulf Coast University has been vocal in addressing pollution in the Estero River. Over a thirteen-month window, FGCU collected samples from seven locations along the Estero River.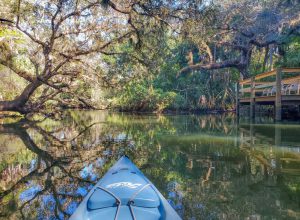 Data collected by FGCU has indicated a high degree of human fecal bacteria pollution at various times and in various locations along the river. So, while it might be safe to be in the water on some occasions, at other times, the level of pollution exceeded Lee County standards and posed a significant health risk. While this study could not draw a direct connection to specific leaking septic systems as the source of pollution, it is believed many mobile home parks, with aging septic systems located along the Estero River, could be major contributors.
Many residents know that the Village of Estero plans to develop a park along the river. This area is where the Koreshan State Park and campground are located. The Village has implemented a plan to correct septic tanks and related issues. The ECCL will provide more information on the various steps and the implications for those with septic tanks in an upcoming article.
Written by Nancy O'Malley, Chair of the ECCL's Environmental Council.